Manage
Learn to apply best practices and optimize your operations.
Voice over WLANs: Determining ROI
This excerpt from Jim Geier's book Deploying Voice over Wireless LANs discusses how to complete an ROI study for VoWLAN and provides an ROI case study.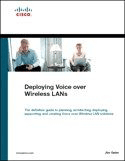 Jim Geier's book Deploying Voice over Wireless LANs discusses what you need to know about the products and services needed for a wireless LAN voice network in your enterprise, the basic tenets of the 802.11 standard and how they apply to your network and how to plan your design.
Determining ROI
Before moving forward with the installation of a VoWLAN system, companies should complete an ROI study that provides the basis for decisions on funding. A worthy ROI must indicate enough benefits before a company will put forth the money to fund the hardware and services necessary to install and support the system. In most cases, a company desires to recoup money spent within one to three years. If the benefits are not well defined or they are not sufficient, deploying the system may not be worth the expense. Not only should the ROI study indicate a positive result, but it should also be clear enough to be understood by a wide variety of decision makers.
This section describes each of the steps necessary for the ROI study and illustrates the main points through a hypothetical case study, which highlights a fictitious company, Acme Furniture. This case study defines a project that a large manufacturing and retail company undertakes to realize the benefits of VoWLAN systems in corporate offices, manufacturing plants, distribution centers, and retail stores. The case study continues throughout the remaining chapters to demonstrate the process of defining requirements, designing the solution, installing and configuring the hardware, and performing operational support.
The first step of performing an ROI study is to do some initial analysis. At least enough details must be known to define benefits and determine the costs for necessary hardware, software, and services to install and support the system. In the initial stages of the project, especially during the ROI study phase, not all details may be known; however, the details will come into full view as the project progresses with funding.
The following are tasks that a company should complete as part of the initial planning phase:
Identify significant communications delays. Spotting problems that the company is having before justifying a VoWLAN solution is very important. If people within a company have no need to communicate with anyone while away from their desks, probably no need exists for a VoWLAN system. They can just use the existing wired telephone system. People who are often mobile and need to communicate with other employees or people outside the facility, however, will likely benefit from a VoWLAN system. Analyze these types of situations, and look for delays that employees have when responding to important events. For example, a doctor requiring even five minutes to look for an available phone is likely taking too long to respond to a page for a patient needing prompt attention.

Identify primary goals and expected benefits. As with any project, clearly spell out what you expect to gain by deploying a VoWLAN solution. State productivity enhancement goals, such as decreasing customer response time to one minute, and costs that a company would like to eliminate by replacing existing communications mechanisms and using a converged infrastructure for data and voice.

Define preliminary application requirements. Determine just enough requirements to assess the existing network infrastructure and adequately determine costs of the solution. In the ROI study phase, at least identify who will benefit by having VoWLAN handsets and how many you will need. Also, predict the number and frequency of calls that each person will complete on a regular basis. This information helps when determining whether upgrades are necessary for the network to support the calls. Be certain to include present and future requirements.

Assess existing networks. Determine whether the existing wired network infrastructure has the capacity to support predicted VoWLAN traffic. If not, factor in the upgrades as a cost for deploying the VoWLAN system. Certainly, the cost of the solution depends on the presence of an existing wireless LAN. When a wireless LAN is already in place, be sure to test its ability to support voice. More access points may be necessary to achieve the coverage that is necessary for voice traffic, which introduces costs.

Consider changes that may take place in the future. To achieve expected ROI, the VoWLAN system must continue to operate and provide benefits for several years. Company moves, growth, and mergers may introduce costs (or benefits) when moving and expanding the system. If these types of changes are known, take them into account during the life of the system.
CASE STUDY: Acme Furniture Gets Started with a VoWLAN Solution
Acme Furniture is a fictitious company that manufactures, distributes, and sells top-quality furniture to the home market within the continental United States. The company has 750 employees, with the corporate headquarters and a single manufacturing plant in Columbus, Ohio. The company also has 80 retail stores and 10 distribution centers located throughout the United States.
Acme Furniture has been growing significantly over the past couple years as the relatively large population of baby boomers has been upgrading their furniture after their children leave home. Bob, the company president, has been happy with the company financials, but he strongly feels that improving communications is necessary based on the increasing number of issues cropping up in the warehouse and retail stores.
Line supervisors in the factory have been complaining for months about the delays in getting status on special furniture orders. The corporate executives and construction teams often play telephone tag for a day or longer before getting in touch with each other. Also, retail store managers often need to contact distribution centers to check on whether they have particular furniture in stock, which results in delays and occasionally lost sales because the customer is not willing to wait. Bob felt that mobile phone technology might be a viable solution to these problems.
In addition, long-distance phone calls between the corporate offices, stores, and distribution centers amount to approximately $3,000 per month. Bob has been eyeing this number on the financial report for several years, wondering how he can eliminate or reduce it considerably. His IT manager, Debbie, felt that the deployment of a VoWLAN system could be a feasible way of achieving the reduction in long-distance charges.
With these issues in mind, Bob contracted a consultant, Eric, to help determine whether Acme Furniture should move forward with the deployment of a VoWLAN solution. Eric's job was to define initial requirements and determine costs and savings of the resulting VoWLAN system. This information would provide Bob with the basis to approve the project.
Eric documented the communications problems and long-distance telephone costs and then took a closer look at the situation. He found that the company can significantly decrease the communications delays to a few minutes instead of hours and nearly eliminate the costs for intercompany long-distance telephone calls. Eric recommended that Acme Furniture make use of VoWLAN technology to meet these goals.
Eric's recommendation was to initially equip the following employees with VoWLAN handsets:
Five of the clerks in each distribution center
The store manager in each store
Ten line supervisors in the manufacturing plant
Seven IT personnel
Ten corporate office executives
The total count of VoWLAN handsets is 127. Acme furniture will grow its workforce by approximately 25 percent over the next few years, and the company will revisit the benefits of adding more wireless telephones after the first year.
The retail stores, manufacturing plant, and distribution centers already have wireless LANs in place. Radio frequency signal testing was done, and they have sufficient signal strength to support voice traffic. The corporate office, a two-story building with approximately 50,000 square feet, does not have any wireless connectivity.
As part of the ROI analysis, a company must define operational and capital costs. This analysis gives a full depiction of what the company will need to pay out to realize the system and resulting benefits.
OPERATIONAL COSTS
For operational costs, figure all services necessary to deploy and support the solution. The following defines each of the operational cost elements for deploying a VoWLAN system:
Planning -- Encompasses the definition of complete requirements that address security concerns, performance needs, and project planning.
Network assessment -- Includes surveying existing wireless LANs and determining the capacity of the local- and wide-area networks (WANs) for supporting voice traffic requirements.
Installation -- Includes setting up and configuring all components, such as VoWLAN handsets, voice gateways, software that interfaces with the existing PBX, and wireless LAN access points.
Testing -- Ensures that the installed system operates efficiently and meets all requirements.
Training -- Provides necessary skills to IT staff that will be supporting the system.
Operational support -- Needed on a recurring basis for IT personnel to add new users, troubleshoot problems, and respond to user problems.
Some companies will perform only the planning and operational support and outsource the other elements. As a result, the costs for these operational elements generally result from bids by prospective contractors.
CAPITAL COSTS
Capital costs include hardware and software that make the system work. The following identifies the capital cost elements for deploying a VoWLAN system:
VoWLAN handsets -- The wireless telephone hardware needed for each user.
Voice gateway -- The platform that manages wireless VoIP traffic and interfaces with an existing PBX.
Wireless access points -- The hardware that interfaces the VoWLAN handsets to the network.
In addition, upgrading the existing routers with applicable quality of service may be necessary.
CASE STUDY: Acme Furniture Defines Costs for a VoWLAN Solution
With the initial analysis complete, Bob, the president of Acme Furniture, directs Eric, the hired consultant, to determine the approximate costs of deploying a VoWLAN solution. The deployment costs are one part of the financial analysis that Bob needs to make a decision. After determining costs, Eric will attempt to quantify the benefits. In Table 1-1, Eric identifies the operational costs for deploying a VoWLAN solution at Acme Furniture.
Table 1-1 Operational Costs for a VoWLAN System at Acme Furniture

| | |
| --- | --- |
| Element | Cost |
| Planning | $25,000 |
| Network assessment | $20,000 |
| Installation | $50,000 |
| Testing | $15,000 |
| Training | $15,000 |
| Support | $20,000 (per year) |
| Total | $145,000 |
The installation costs include setting up the system, as well as the costs to install 12 access points in the corporate headquarters.
In Table 1-2, Eric identifies the capital costs for deploying a VoWLAN solution at Acme Furniture.
Table 1-2 Capital Costs for a VoWLAN System at Acme Furniture

| | |
| --- | --- |
| Element | Cost |
| VoWLAN handsets (127) | $63,500 |
| Call Manager | $50,000 |
| Access points | $6,000 |
| Total | $119,500 |
As a result, the total first year cost of deploying a VoWLAN solution to meet Acme Furniture's requirements is $264,500, which includes $119,500 in capital costs and $145,000 in operational costs. The company will also incur an annual cost of $20,000 for ongoing operational support.
Eric met with the IT manager, Debbie, and found that an Ethernet network resides in the corporate offices, with plenty of capacity to support voice traffic. Also, based on the call volumes as indicated by existing telephone bills, the WAN interconnecting the corporate offices, manufacturing plant, stores, and distribution centers does not need any additional capacity to support initial requirements, but it will likely need an upgrade as the company expands the system.
The calculation of savings resulting from a VoWLAN solution includes the combination of quantitative and qualitative benefits. The following sections take a look at each of these types of benefits to see how they can help justify VoWLAN costs.
QUANTITATIVE BENEFITS
The quantitative benefits comprise the actual dollar savings resulting from the deployment of a VoWLAN solution. This money is generally cash that a company avoids paying for particular services, but it can also include sales of hardware that the VoWLAN system is replacing. The following are the types of quantitative benefits that you can realize with a VoWLAN solution:
Reduced long-distance telephone charges --The routing of intercompany VoIP telephone calls is virtually free; therefore, a VoWLAN system can eliminate the long-distance charges associated with each VoWLAN user.
Fewer wired telephone lines --A company can eliminate the need for a wired telephone line for each VoWLAN user, which saves any associated fees. Because VoWLAN users are wireless, there is no need to rewire telephone lines when changes are made to the workforce.
Increased productivity --This benefit is somewhat difficult to define in some cases, but it allows employees to complete work faster and better serve customers. This results in higher revenues for the company, which is certainly a benefit.
QUALITATIVE BENEFITS
Qualitative benefits enhance the operation of the company, but they do not result in definable dollar savings. These types of benefits often lean management toward funding the project when quantitative benefits are marginal or not well defined. The following are the types of qualitative benefits that you should consider when performing an ROI study for a VoWLAN solution:
Improved safety --This benefit is certainly very important to any company. In some cases, the regular use of VoWLAN phones can provide vital and immediate communications in times of emergency situations.
Better image to customers --With the use of VoWLAN phones, customers will see company employees getting things done faster and more efficiently, which makes the customer more inclined to do business with the company.
Increased employee morale --Employees equipped with VoWLAN handsets have less frustration because of the elimination of telephone tag and searching for a phone when they need one.
CASE STUDY: Acme Furniture Defines Benefits for a VoWLAN Solution
Previously, Eric, the consultant performing an ROI study for Acme Furniture, defined the total costs of a VoWLAN solution. Eric next determined the benefits that the company will gain by spending this money. In doing so, he met with the IT manager, Debbie, and the division heads of the manufacturing plant, distribution centers, and stores, who are Brian, Denise, and Sierra, respectively.
Debbie located past telephone bills and work orders and totaled up what the costs have been for equipping potential VoWLAN users with wired telephones. The average cost of adding or changing a phone line is approximately $100, but there are only a few of the planned VoWLAN users where this applies over the past few years. As a result, Eric does not bother including this benefit in the study. If all employees were to have VoWLAN handsets, though, the savings per year would be $50,000 total per year, which would have been significant. Debbie does reiterate that the monthly long-distance telephone bill is approximately $3,000 per month, and the deployment of a VoWLAN solution will eliminate these costs.
Brian discussed lots of issues that line supervisors are having when getting status from construction teams making the furniture at the plant, but pinpointing lost revenue that could equate to quantitative benefits was not possible. However, a VoWLAN solution in this situation would result in excellent qualitative benefits. It is common for companies to not fully define productivity benefits.
In the distribution centers, Denise explains that the use of mobile telephones will improve productivity and will surely speed up the processing of orders, but no studies have been done to assess the actual impacts on revenue. As with the case with the manufacturing plant, Eric will include this as a qualitative benefit.
Sierra provides details on the sales lost due to not getting timely product availability information to customers. A study that surveyed customers as they exited the stores was conducted on this subject during the previous year, and it found that Acme Furniture was losing roughly $250,000 per year due to this problem. These people would leave the store before finding out that the particular furniture item that they wanted was in stock at a distribution center.
Eric tabulated the quantitative benefits of deploying a VoWLAN solution at Acme Furniture in Table 1-3.
Table 1-3 Quantitative Benefits of a VoWLAN Solution at Acme Furniture

| | |
| --- | --- |
| Element | Savings |
| Long-distance telephone service | $36,000 per year |
| Increased sales at stores | $250,000 per year |
| Total | $286,000 per year |
The total savings of $286,000 per year is amazing, and it is actual cash savings. Eric defines the following additional benefits:
Better customer service due to line supervisors having more direct communications with construction teams in the manufacturing plant.
Increased (undefined) productivity in the distribution centers because of direct communications among warehouse clerks and administrative offices.
Improved safety because employees carrying VoWLAN phones can contact the appropriate services immediately if an emergency situation occurs.
For Acme Furniture the biggest payoff is clearly the ability to increase sales at the stores through faster inventory checks. That benefit alone is enough to invest in the project.
With the costs and savings of a VoWLAN deployment in mind, you should calculate the payback period to determine whether the project is worth investing in. The payback period is the amount of time that the system needs to operate to realize enough savings to pay off the initial expenses. Most companies move forward with a payback period of less than three years. The quantitative benefits, however, must exceed the support costs on a yearly basis.
For example, a company may find that a VoWLAN system will save $75,000 through lower long-distance telephone charges. If the initial cost for hardware and services amounts to $80,000 and an annual support cost of $15,000 is necessary, the payback period is just over one year. This should prompt most companies to implement the system.
CASE STUDY: Acme Furniture Determines a Favorable Payback Period
Eric, the consultant working with Acme Furniture, utilizes the costs and benefits of deploying a VoWLAN system for the company to determine the payback period and yearly net benefits. This is something that the company president, Bob, had requested Eric find out before deciding whether it is worth installing the system. Based on a total quantitative benefit of $286,000 per year and a first-year cost of $264,500, which includes hardware, services, and first year's support costs, Eric is happy to announce that the payback period is just under one year. After this payback period occurs, the company will receive a yearly combination of cost savings and additional revenue of $266,000, which takes into account the $20,000 per year support cost.
Bob is very happy with these numbers and readily agrees to fund the project. He hands over Eric's rough financial analysis to the company's accountant, Madison, who will figure in capital depreciation, finance costs, and other details. The benefit of more than a quarter million dollars per year, though, is certainly big enough to cover any alterations that Madison might make to the analysis.
Wrap-up
The deployment of a VoWLAN solution can provide substantial benefits to companies. In most cases, the primary benefits are increases in productivity due to improved communications and lower long-distance telephone charges. A doctor in a hospital who carries a VoIP phone is reachable immediately and can respond to patient needs quickly. Also, a company can make use of VoWLANs and route calls over the Internet or a private WAN, which makes these calls much less expensive than using the traditional PSTN. In addition, a VoWLAN solution is a lower-cost method for implementing mobile phone technology inside larger facilities as compared to cellular systems. A company should, however, complete a financial study to adequately define benefits and the costs of deploying and supporting the VoWLAN system.
Return to the Main Table of Contents on the introduction page to read about the history of VoWLANs and determining an ROI.
Excerpted from Deploying Voice over Wireless LANs by Jim Geier. ISBN: 1-58705-231-8.
Copyright © Pearson Education. All rights reserved.