chris - Fotolia
Get started
Bring yourself up to speed with our introductory content.
Understand the basics of 5G wireless networks
5G wireless networks offer enterprises a lot of intriguing possibilities. What exactly is 5G, and what has to happen before the high-speed, low-latency technology becomes a reality?
Wireless networking has improved significantly over the last several years, as enterprises accommodate increasing numbers of mobile devices accessing their networks. The telecommunications industry hopes fifth-generation wireless technology will represent an even greater leap forward in network performance, enabling enterprises to tap into a broad range of new applications and services.
Building on fourth-generation wireless Long Term Evolution (LTE) services, 5G wireless is expected to carry greater amounts of data over much faster networks with submillisecond latency. At peak 4G performance, cellular networks can transport data at speeds of up to 1 Gbps. With 5G wireless networks, however, performance will increase dramatically, with data moving as fast as 10 Gbps -- equivalent to wireline speeds.
The reduction in network response times, meanwhile, heralds other significant advancements. As a result, 5G architecture holds significant potential for new technologies -- such as remote online surgery -- that embrace machine learning and artificial intelligence, virtual and augmented reality, and the internet of things.
Types of 5G wireless services
As the commercial deployment of 5G wireless networks gets closer, mobile operators are preparing to roll out two main types of new 5G services. The first is fixed wireless broadband, which will be available in some major metropolitan areas in 2018. The second is mobile 5G cellular, which is expected to be available in some markets in 2019, with the technology for both mobile and cellular users becoming widely available in 2020. Analysts expect operators will have full 5G wireless deployment in place by 2025.
Here's how the two types of 5G wireless services work.
Fixed 5G wireless broadband. These services are designed to deliver last-mile internet connectivity to a business or residence using radio signals, rather than a wired connection directly to the premises. To provide fixed wireless broadband, carriers deploy 5G New Radios in small cell sites, such as on streetlights and telephone poles, to deliver signals to wireless modems installed inside buildings and residences. This replaces the need for fiber, cable or other wireline connections directly to a building.
The 3rd Generation Partnership Project (3GPP) in December 2017 completed standards for the 5G New Radio needed for fixed broadband wireless.
5G mobile services. Operators also plan to offer 5G mobile cellular services, which will be enabled by the next development of Evolved Packet Core LTE-Advanced wireless connectivity. Cellular 5G mobile services can't be rolled out until 3GPP has completed 5G mobile core standards, which is expected later this year, and until 5G-enabled smartphones are commercially available -- expected in early 2019. Analysts expect mobile operators to begin deploying 5G mobile service toward the end of the first quarter of 2019.
5G wireless in the enterprise
The full promise of 5G wireless technology for enterprises remains just that -- a promise -- until 5G standards development is complete and operators have finished rolling out 5G wireless networks. Once 5G radios are installed and 5G-enabled smart devices are available, expect to see enterprises develop more use cases for 5G services.
Chris Antlitz, senior telecom analyst with Technology Business Research Inc. in Hampton, N.H., said he expects large enterprises in the Fortune 2000 will be among the first to roll out 5G services, beginning in 2020. More widespread enterprise adoption will begin to occur later in the decade -- between 2025 and 2030.
To prepare for the rollout of 5G wireless networks, some enterprises are starting to appoint C-suite leaders and other IT managers to look at potential applications that can take advantage of 5G performance and low latency.
Who will benefit from 5G?
The 5G infrastructure market is poised to grow significantly from $2.9 billion in 2020 to $34 billion by 2026, according to MarketsandMarkets, fueled by demand for mobile data services, the growth of industrial automation and increased use of software in communication networks.
For industries that require low latency and high throughput -- like healthcare, financial services, energy and other field-service organizations -- 5G wireless networks are expected to have a significant impact. Businesses that have specialized communications requirements and manufacturing processes might see benefits first.
Engineers at a 5G development center in Oulu, Finland, where Nokia was once the dominate employer, are developing 5G use cases. Researchers are working on communication ideas like 5G radio broadcasting, as well as developing healthcare applications, such as rehabbing stroke through virtual reality.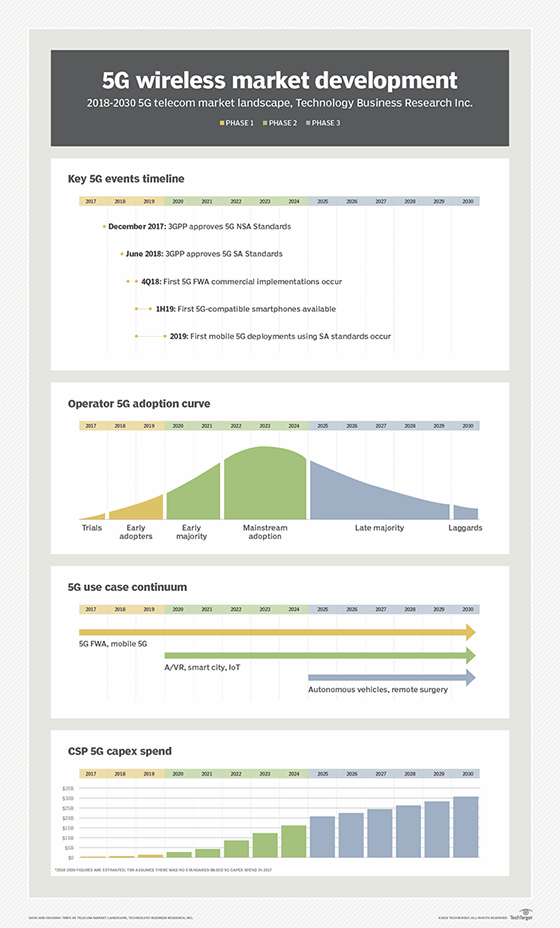 Service providers helping drive 5G development
According to TBR, more than 85% of the funds earmarked for 5G development come from communication service providers in four countries: the United States, China, Japan and South Korea. Operators in these countries have made 5G a priority and are focusing initially on fixed wireless broadband and mobile broadband.
In the United States, Verizon and AT&T, which started 5G trials in some cities in 2017, are building 5G networks that use millimeter wave spectrum as they roll out services in 2018. Sprint and T-Mobile have announced plans to bring 5G mobile services to major metropolitan areas in 2019.
U.S. operators have regulatory hurdles to address in deploying 5G wireless networks. Federal and state rights-of-way access regulations must be established and local permits issued that allow telecommunications companies to install the fiber they need to connect to their small cell sites. Providers also will have to purchase spectrum through auctions managed by the Federal Communications Commission.
Through low-latency, high-speed data delivery, 5G wireless networks promise to change how enterprises use advanced technologies to underpin new services and capabilities. Enterprises can expect adoption to ramp up in the decade to come as service providers begin rolling out 5G services and companies develop 5G use cases.
Dig Deeper on Network Design