Manage
Learn to apply best practices and optimize your operations.
Talari Networks' APN appliances offer low-cost, reliable WANs
Talari Networks' adaptive private networking (APN) appliances can lower the cost of your networking services while giving your enterprise higher reliability and more bandwidth. Sound too good to be true? Read about the pros and cons of using this startup's solution in your enterprise wide area network (WAN).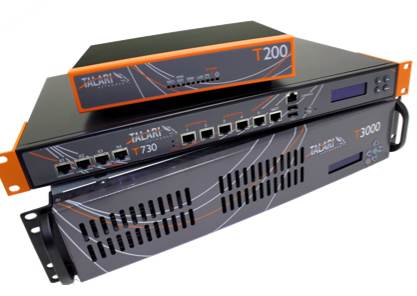 Startup vendor Talari Networks created its Mercury Adaptive Private Networking (APN) appliances to do what it hopes telecom providers can't: deliver low-cost networking services with higher availability and built-in fault tolerance using virtualization technology. If its appliances take off with enterprise customers, Talari's plans may include offering adaptive private networking as a service.
According to Talari Networks product manager Keith Morris, today's private wide area networks (WANs) are too expensive, and public WANs are not reliable enough for the enterprise. Morris claims public WANs offer two nines reliability at best, while businesses require at least four nines (and preferably five nines) to run a WAN with as few unplanned network outages as possible.
What type of vendor is Talari Networks?
Talari Networks, a startup company founded in 2006, describes itself as a WAN virtualization vendor rather than a WAN optimization vendor. For now, its APN products are new enough to defy easy market classification.
CIMI Corporation founder and president Tom Nolle said: "We consider anything that attempts to manipulate traffic from the edge a WAN optimization vendor. WAN optimization appliances fall into a number of categories.… [WAN virtualization] might be considered a different category of WAN optimization."
Dr. Jim Metzler, vice president of Ashton Metzler and Associates, disagrees, saying WAN optimization vendors use techniques like caching and spoofing. Because Talari Networks does not, he doesn't include them in the WAN optimization vendor category.
"When people use the word 'virtualization,' it means two or three different things," Metzler said. The industry hasn't agreed on a market [segment] for them yet, which makes it understandable that Talari is pegged as a WAN optimization vendor, he added. "Gartner won't have a category on this for their magic quadrant until other people start talking the talk of it."
What is Talari Networks' adaptive private networking?
Talari Networks claims it does for the WAN what RAID did for storage: uses technology that already exists and adds intelligence on top to make it perform better. Talari Networks' boxes constantly monitor connection paths of multiple providers and connectivity types, like cable modem and DSL, in order to send packets along the shortest and fastest route -- which Talari calls adaptive private networking (APN).
"At our own locations, we use a mix of different connection types and Internet service providers (ISPs)," Morris said. "Our APN appliances continually measure all of the [connection] paths and determine the amount of packet loss, packet latency and packet jitter. With this information, we can match every packet with the most appropriate path to take based on the current performance of each path and the type of traffic."
Why does Talari Networks' APN matter to WAN engineers?
Any company with 10 or more sites buying private WAN bandwidth today can save money with Talari Networks' APN, according to Morris. He offered return on investment (ROI) statistics highlighting a large semiconductor company with 30 sites that had a payback period of seven months when the company replaced its MPLS connections with APN at seven of its remote sites.
Based on the concept that more service providers are better than one, Talari's APN boxes can make a WAN more reliable than any single vendor's frame relay or MPLS network, Morris said. And because the company has redundant network paths, it can also duplicate voice or video traffic without requiring more bandwidth.
"We are also complementary to WAN optimization because we add bandwidth, while WAN optimization improves it," Morris said, explaining that dispersing traffic through multiple connection types, in effect, adds WAN bandwidth.
The great thing about Talari Networks is that you can try out its technology in a handful of branches while keeping vendor contracts, Metzler said. If it works, you can do it to a few more branches, and when your contract runs out with your provider and you're getting better ROI with Talari Networks, you will be able to negotiate with your current provider to give you higher reliability at a lower cost.
"This has more promise to it than any of the other IT projects you have," Metzler said. "You should pay attention to [a Talari Network deployment] over, say, your desktop virtualization project."
Talari Networks' APN appliance specs, pricing and availability
All three Talari Networks' Mercury Adaptive Private Networking (APN) appliances are available today.
T3000: Talari Networks' largest appliance costs between $30,000 and $50,000. The appliance is best suited for an enterprise WAN's headquarters because it can support "hundreds of megabits of WAN bandwidth" and provide support for a large number of branch connections and application flows, according to Talari.
T730: This midsized appliance is best suited for remote offices and is available for $10,000 to $16,000.
Morris says Talari's APN technology could be offered as a service in the future, but the startup hasn't forecast a specific date for such a move.
Talari Networks' adaptive private networking pros and cons
Nolle believes adaptive private networking is a better concept than a practice. Service providers often share the same roads and facilities, so unless you know that the ISPs in your area are diverse, you might want to consider other options, he said. One way to find out whether APNs are useful would be to test your connections by passing the same traffic over multiple environments (or over several ISP networks) for a week to detect any deviation in performance. If there is no meaningful difference, then there is no gain either way.
Metzler does not see this as a major argument because between DSL and cable, you will at least have that separation and diversity of networks. "Once you get to an ISP, it's pretty much an open field. The Internet is incredibly available. The problem is performance," Metzler said, although he recommends looking at it on an individual case basis.
The IT industry as a whole is also conservative and resistant to change -- and with good reason. In the WAN space, fiber is expected to last 20 years. WAN managers may have reservations about risking their jobs on an investment from a company with a short track record.
Nolle said that although all parts of WAN optimization can probably benefit enterprise WANs, every box needs a specific justification because each one can be a black hole into which enterprises sink time and money. Nolle and Metzler agree that with every new technology, you're going to add more complexity to your network.
As for adding this solution to another WAN optimization box, "I would never recommend putting two strategies [from separate vendors] back-to-back," Nolle said. "I have never seen a compelling reason to do that."
This was last published in
July 2010