Share this item with your network:
Building the infrastructure for the changing face of IT

Maxim_Kazmin - Fotolia
Evaluate
Weigh the pros and cons of technologies, products and projects you are considering.
Switch software plays bigger role in data center networks
Hardware still matters, but it isn't just about speeds and feeds anymore. Switch software is an increasingly important factor in data center networks.
The world of data center switches has evolved rapidly; no longer is it an oligopoly dominated by a few hardware-oriented vendors.
Instead, many networking vendors -- especially newer players in the market -- have embraced merchant silicon rather than architectures built around custom ASICs, and many now differentiate their data center switches primarily based on software, APIs and architectures. This has heralded the rise of bare-metal and white-box switches, which use commodity hardware as a foundation for a networking ecosystem.
For network engineers who deploy, manage and purchase switches, this has changed much about how they think and where they spend their money -- but it hasn't changed everything. Sure, software-based bells and whistles matter, but the hardware still has a big role to play in assessing competitive pricing, bandwidth and more. Nevertheless, it's no longer just about speeds and feeds. Switch software continues to have a growing influence on how enterprises build and upgrade their data center networks.
It's an approach that has won support from IT pros like Pete Valentine, executive vice president of U2 Cloud, a service provider in Jacksonville, Fla., that sells cloud-based virtual desktop and application services. Valentine, who says his infrastructure depends on sound and flexible switching capabilities, uses Big Switch Networks' software on Dell switches in his network.
"We looked at a lot of providers, but decided we liked the fact that Big Switch was platform-agnostic, so we could work with any hypervisor," he explains.
Another advantage of being platform-agnostic is that it makes it easier to achieve single-pane-of-glass monitoring and management, rather than "having to go switch to switch to manage things, which could increase the potential for human error," says Valentine.
"Our big push to Big Switch was to be able to be independent of hypervisors so we can increase profit by reducing provisioning time and errors," he explains.
Benefits and barriers
Although Valentine says his company considered other vendors, his decision ultimately came down to how the Big Switch software was able to integrate through VMware's vCenter in his data center.
"In essence, I can now configure my virtual switch in vCenter ... and end up with a nice GUI app to see all my endpoints," he adds.
Noah Mehl, director of IT and development at Combined Public Communications in Highland Heights, Ky., which provides VoIP services to correctional facilities, has also invested in white-box switches and uses software-defined networking (SDN) technology to improve service agility. Beyond the cost savings over traditional switches, Mehl says he has also found that installing and configuring network equipment is less costly too.
This is essentially what happened in the PC market with the development of clones. I'm just surprised it didn't happen sooner with switches.

Noah Mehldirector of IT and development, Combined Public Communications
"It is something that used to be the domain of a very expensive and specialized engineer," he explains.
But with Pica8's switch software, he says setup and configuration is more or less a trivial task.
"If you buy some other vendors' switches, you still have to pay for expensive software," Mehl says. "This is essentially what happened in the PC market with the development of clones. I'm just surprised it didn't happen sooner with switches."
Comments like these come as no surprise to Dan Conde, a senior analyst at Enterprise Strategy Group. He contends, however, that while the trend toward white boxes and SDN is important, it should not obscure some of the fundamental truths about switch software. While a software-centric model may simplify configuration and increase flexibility, bandwidth and capacity are ultimately linked primarily to attributes of the physical hardware.
For most buyers, Conde notes, the design of the underlying hardware of a white box switch -- often, but not always, x86-based -- matters little since many network engineers don't custom program switches.
But that isn't the case everywhere. In large environments, people want to treat all systems alike, whether they are servers or network switches, Conde notes.
"You can configure servers with configuration scripts like Puppet or Chef, and you can do the same with some switches," he explains.
When the software depends on these scripting languages to achieve automation, however, it can add some unexpected complexity. The inclusion of RESTful APIs can also ease integration challenges, says U2 Cloud's Valentine, who maintains that "white box networks are the wave of the future."
In a recent report, Conde also cautions that enterprises should carefully evaluate the quality of any third-party networking software. The performance of some protocols like Border Gateway Protocol (BGP) may be less stable, he says. Meanwhile, open source options such as Quagga may not have the proven track record of more established, proprietary switches, Conde says.
"It is dangerous to favor the software side too much because, unlike virtual machines in computing -- where 20 virtual machines in the space of one physical machine doesn't make much difference -- in a network, you need a certain number of switches per server rack," Conde says.
"With a virtualized environment, you may need fewer ports and wires but you still need switches," he adds. "And, of course, hardware is the key to maintaining speed."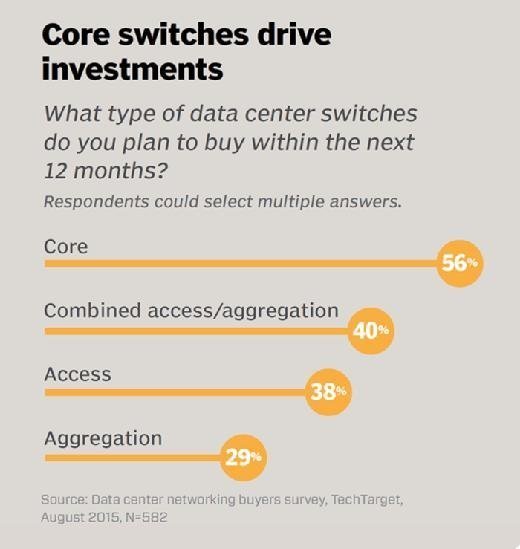 Not an either-or decision
Yet, there is no "war" between the two styles of switching.
"They are in no way antithetical," Conde says. "The white box people want to provide choice, but traditional vendors like Cisco aren't really 100% proprietary. They use some of the same hardware elements employed by white box makers."
The key point to recognize, he says, is that an increasing number of workloads are in virtual machines. That should drive switch selection.
"Look at the traffic going between machines -- the so-called east-west traffic between servers -- and contrast that with the so-called north-south traffic to the data center or the Internet, and design your switch architecture accordingly," Conde says.
This was last published in
October 2015
Dig Deeper on Data Center Networking