Networking material on the 'CompTIA A+ 220-701 and 220-702 Exam Cram'
Access your complimentary PDF download of Networking, Chapter 14 of the book 'CompTIA A+ 220-701 and 220-702 Exam Cram,' which contains networking material and fundamentals for beginners or soon-to-be IT professionals. It includes information on IP addressing, troubleshooting connectivity and installing networks.
If your wide area network (WAN) is suffering from poor network configuration, then it's time to go back to the basics. "Networking," Chapter 14 of the book CompTIA A+ 220-701 and 220-702 Exam Cram, provides networking material that will help aspiring IT engineers and those needing a refresher learn how to properly connect computers over a LAN or a WAN. It will also show how to troubleshoot network connectivity and secure your network with a VPN.
A portion of the chapter is also devoted to IPv6. With the next generation of IP addresses closing in, network professionals need to know what upgrades they can expect from IPv6, what IPv6 addresses look like and the opportunities IPv6 holds. Throughout the book, there are "Cram Quizzes," which gauge understanding of the topics; practice exams both in the book and on an included CD; and a "Cram Sheet" useful for memorizing networking material.
Chapter 14 of CompTIA A+ 220-701 and 220-702 Exam Cram, "Networking," includes information on the following topics:
Networking fundamentals such as the types of networks that exist, and when and where they are used
Configuring IPv4 and IPv6 addresses
Understanding network materials used such as cabling and connectors
Troubleshooting network connectivity using the command-line interface (CLI) tools and applications like Windows Firewall and Outlook
Configuring WAN IP addresses and router port forwarding to install small networks
⇒ To learn about networking material, download this book chapter PDF: Networking, Chapter 14 of CompTIA A+ 220-701 and 220-702 Exam Cram.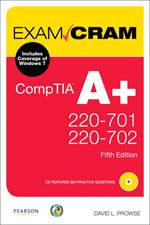 About this book: For a computer support technician, the CompTIA A+ exam is the standard certification to obtain in order to work for many corporations in the IT field. This certification gives IT hopefuls a step up in the hiring pool. For professionals already in the IT field, this book has networking material to guide you through any problem your network experiences. The CompTIA A+ 220-701 and 220-702 Exam Cram, Fifth Edition by David L. Prowse was published by Pearson Publishers. Copyright © 2011 (ISBN-13: 978-0-7897-4792-1 and ISBN-10: 0-7897-4972-8). All rights reserved.
About the author: David L. Prowse is a computer network specialist, author and technical trainer. As a consultant, he installs and secures the latest in computer and networking technology. Over the past several years, he has authored several titles for Pearson Education, including the well-received CompTIA A+ Exam Cram. In addition, over the past decade he has taught CompTIA A+, Network+ and Security+ certification courses, both in the classroom and via the Internet. He runs his own website, DavidLProwse.com, where he gladly answers questions from students and readers.
More networking material on the CompTIA A 220-701 and 220-702 Exam