Share this item with your network: Building the infrastructure for the changing face of IT

everythingpossible - Fotolia
Get started
Bring yourself up to speed with our introductory content.
Mobile application performance takes center stage
As more businesses move to mobile platforms, enterprises have to make sure their mobile applications perform like they're supposed to. Vendors are trying to address that need with more granular mobile application performance management (APM) tools.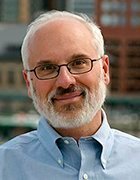 By
For fashion retailers and e-commerce sites, mobile application performance management (APM) is the new black.
Yet it's not just retailers selling clothing and accessories that struggle with application performance. Banking, entertainment and transportation companies -- in fact, any entity with which customers do business on their mobile devices -- are equally vulnerable to the consequences of users becoming frustrated by performance glitches. Every user irritated by a dropped or balky connection is a potential customer lost. That dissatisfaction can quickly translate into lost sales -- and a tarnished reputation.
Network engineers are right in the middle of the fray. Even as they work to fine-tune network and application performance over their wired infrastructures, they are now being asked to provide the same level of service to mobile users.
There's more of an emphasis on the mobile side of APM as mobility plays an increasingly important role in how business gets done and how sales are made. According to a 2013 report from Forrester Research, 38% of smartphone users and 31% of tablet users are expected to make retail purchases using those devices this year. Forrester predicts those figures will jump to 55% and 61%, respectively, by 2018. These trends also dovetail with a blossoming focus on application performance management overall, as enterprises and other organizations begin to deploy tools aimed at making application performance a core part of network operations.
"Increasingly, more and more of the important transactions that take place today are being conducted through mobile devices," says Jonah Kowall, a research vice president at Gartner. "For businesses like Uber that are mobile first, their mobile presence drives their entire business. And for them, their mobile performance is their business performance."
B2B enterprises equally vulnerable
Enterprises that have developed mobile apps only for internal use among their employees, as opposed to consumer-facing apps, aren't immune to the repercussions of poor mobile application performance. This is especially true as businesses increasingly adopt software as a service delivery models. Workers who can't access internal applications on their mobile devices may not complete crucial tasks on time, and clients may take their business elsewhere if they're continually frustrated by a sales rep's excuses about sloppy application performance. Help desk tickets escalate and already-pinched IT resources are stretched even further.
Complicating the issue is that most companies don't have a firm grasp on how their mobile applications are actually performing. That's partly due to the difficulties associated with tracking dynamic applications in a mobile environment. But it's also because myriad performance glitches can occur for a variety of reasons beyond a developer's control -- from outdated mobile operating systems (OSes) to Wi-Fi or cellular network congestion.
Additionally, developers are under pressure to get their mobile applications written and released before APM is integrated.
"Mobile APM is what [enterprises] should be doing," says Michael Facemire, a principal analyst at Forrester Research. "We should be doing this every day, but the reality is that time-to-market in mobile is so critical. Literally, getting something out the door that people can use is the most important thing, especially in the business-to-consumer sense but also in the internal apps, the business-to-enterprise ones. Having analytics or any type of APM is still oftentimes overlooked."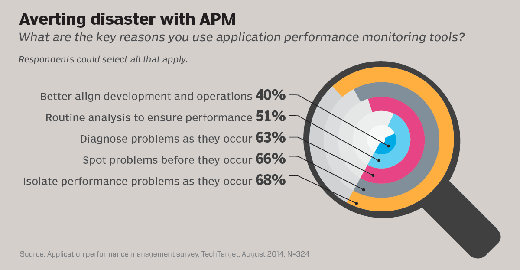 Getting a handle on mobile APM
Lee Badman, a network architect at a large private New York university, says his department is "struggling with" mobile application performance.
"Part of our problem is we don't get a lot of trouble tickets, but the other part of that is we just don't know if users are having problems," he says.
It's not because of the institution's wireless network, Badman asserts, which he contends is more than robust enough to serve its constituents.
"The kinds of things we see tend to be individual user problems, and if you get enough of them, then that starts to indicate maybe there's something deeper to look at," he says.
And there can be a lot to look at, even if the ultimate problem lies at the feet of the user.
Twenty-five percent of organizations with full-featured APM platforms will extend those capabilities to mobile users by 2018, up from less than 1% today.
"Something's going on with their DNS, or something's going on with the HTTP. Or maybe they're not authenticating, or maybe they just did an OS upgrade, or perhaps the site they're going to on the Internet has too much flakiness," Badman says. "If it's on a mobile device, it will be slow to launch, and that makes it feel like the network has a problem."
For now, Badman uses legacy management tools, which provide "some sense of the application [and] some visibility into the application." But the school is beginning to investigate overlaying those tools with more mobile-specific APM platforms to give administrators a clearer view of application performance.
"It could be the same type of device and the same network, but different users come at it from different directions [when it comes to gauging performance]," Badman says. "That's part of why we're telling ourselves, 'Great. We have a healthy network by all obvious indicators. We have very few trouble tickets.' But that doesn't convince us that everything is necessarily as good as it could be."
Mobile APM market draws interest from suppliers
Vendors are taking note. The mobile APM space is developing at a rapid pace, according to Gartner's Kowall, with about a dozen vendors actively marketing products to enterprises and application creators.
In recent months, Aruba Networks, Compuware and Riverbed Technology, among others, all have released products containing a mobile application performance component.
It's a market ripe for growth, with Gartner predicting that 25% of organizations with full-featured APM platforms will extend those capabilities to mobile users by 2018, up from less than 1% today. At the same time, ensuring mobile performance will increasingly fall under the domain of IT operations teams, Gartner reports, with 35% of those teams responsible for mobile APM within the next four years. Today, only a handful of IT operations departments monitor mobile performance.
"You have to look at the [mobile] environment, what it looks like and what you need to instrument in order to monitor the end-user experience if you are going to claim you can provide enterprises with end-to-end visibility," says Nik Koutsoukos, senior director of product marketing at Riverbed's SteelCentral line. Earlier this summer, Riverbed released an upgrade to its AppInternals application to add mobile and analytics features allowing enterprises to identify which software Android and iOS devices are using and to gather performance and end-user experience information.
The upgrade integrates with Riverbed's existing network performance management platform, providing customers with a consolidated view of application behavior, Koutsoukos says.
"We have been trying over the years to build a complete solution that covers all the elements across the application delivery chain," he says. "When you measure performance, you need to measure it from the point of view of the end user. You can look at the network and look at the application, but if you have no ability to look at and measure the performance from an end-user perspective, then you really can't talk about nor accurately reflect how the application is performing in that environment."
Meanwhile, Compuware recently added new mobile tracking and monitoring capabilities to its application performance management as a service (APMaaS) platform. The upgrade, in combination with the firm's PurePath and PureStack applications, lets organizations analyze root causes of poor performance, says Mark Eshelby, senior product manager at Compuware.
Users 'really get ticked off' by mobile app problems
Understanding the user experience requires a more holistic approach to monitoring and troubleshooting.
"Everybody really gets ticked off when their mobile app crashes, but they get equally ticked off when it just fails to perform or perhaps it renders the wrong piece of data or it doesn't let them into their account," Eshelby says. "It's not only the app, but the app is critically important."
Compuware's APMaaS offering measures performance in two ways: synthetically, for benchmarking purposes, and dynamically, which is achieved by tracking users' clicks or swipes on their mobile devices to get a contextual understanding of what they are trying to accomplish.
"Taking this best-of-both approach is critical because there are so many devices and there are just so many different gotchas," Eshelby says, dismissing critics who say synthetic testing is dead. "Knowing what's 'normal' is very critical, and that's what synthetic [monitoring] provides."
At West Chester University (WCU) in West Chester, Pa., Richard Chan, assistant director of networking and telecommunications, helped oversee a project that blanketed the school's dorms and facilities with a Wi-Fi network that he believes will overcome any performance issues. The school substantially beefed up its wireless infrastructure this summer, tapping Aruba for 802.11ac access points that were placed in West Chester's residence halls and student apartments. This gigabit wireless network supplements the 802.11n network the school has in place in its academic and administrative buildings.
"Most of our students do online classes, so we have to make sure our bandwidth is allocated and preserved," Chan says, adding that the university will also put a 10 Gbps connection to the Internet into operation this fall to ensure adequate performance.
Adopting APM tools in combination with help desk
For now, Chan says, West Chester will use Aruba's Mobility-Defined Networks (MDN) architecture, anchored by the vendor's AirWave and ClearPass network management applications, as the primary way to monitor application performance and user satisfaction. MDN makes the necessary configuration adjustments to the network's bandwidth and other resources to ensure optimal application performance.
That said, Chan remains concerned about the increasing volume of devices accessing the WCU network. Currently, some 50,000 devices are connected to the network at any given time. As students continue to deploy more mobile gadgets and download more bandwidth-intensive applications, the capabilities within MDN will become more critical, he says.
The penetration of converged devices -- those capable of handling voice, video and other multimedia traffic -- makes it difficult to "force-fit this new class of devices into a legacy network architecture," making mobile APM a process distinct from APM, says Keyur Shah, senior product marketing manager at Aruba.
"Our hypothesis is that, regardless of how a device or an application connects to the network, [MDN] is looking at the physical attributes of the device. What we do is look at the attributes of the application," Shah says. "And if we know this application is real-time, we will automatically provision the right QoS [and] automatically provision quality of experience -- for the duration of the time that application is active."
This approach leads to "more of an application-aware network, which is mobility-defined, rather than a static one where administrators have to constantly keep moving things around" to ensure performance, he adds. "That is basically a mobility-defined network."
This was last published in
October 2014
Dig Deeper on Network application performance