Share this item with your network:
Building the infrastructure for the changing face of IT

Fotolia
Get started
Bring yourself up to speed with our introductory content.
In Wave 2, 802.11ac tackles density with multi-user MIMO
Mobile devices continue to flood wireless LANs, but 802.11ac Wave 2 is leveling the playing field. Deploying it, however, requires some forethought.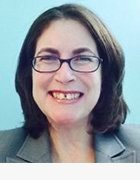 By
When Maryville City Schools in Tennessee began distributing a tablet or laptop to every student at the start of this school year, the district's existing wireless networks immediately felt the strain.
"Density became a problem for us when we went one-to-one," says Andrew Raulston, district technology coordinator for the 5,000-student school system. "We had designed our wireless network for coverage, not density."
The schools' access points (APs) were based on legacy standards, 802.11n and 802.11g. Raulston was reluctant to upgrade because he didn't feel that the benefits of the next step up, 802.11ac Wave 1, were compelling enough to justify the expense. But when he heard 802.11ac Wave 2 APs were starting to ship, he pulled the trigger.
In Wave 2, 802.11ac is designed to support hypothetical speeds up to 6.9 Gbps and operate in the 5 GHz band. This implementation of the IEEE's 802.11ac standard, which was ratified in late 2013, represents a sizable leap from the first generation of infrastructure based on it. Wave 1 products, actually built using a partial implementation of the 802.11ac standard, support up to 1.3 Gbps. Most impressive about Wave 2, however, is its introduction of multi-user multiple input/multiple output (MU-MIMO).
Multi-user MIMO enables an access point to simultaneously transmit to multiple receivers instead of only one, as in previous editions of the 802.11 standard. It helps address the density challenges that IT pros like Raulston face as more mobile devices continue to flood wireless networks.
Combined with the increased speeds of Wave 2, 802.11ac with MU-MIMO is expected to significantly improve network performance -- particularly when multiple users are attempting to launch conferencing applications, play augmented reality games or perform other bandwidth-hungry tasks on their mobile devices.
"MU-MIMO is incredibly useful for real-time communications over Wi-Fi networks," says Matthew Gast, author of 802.11ac: A Survival Guide and director of technology at Aerohive Networks, a wireless LAN vendor. In a blog post, Gast notes that Wave 1 and Wave 2 are marketing terms -- not technical ones -- that refer to whether a product supports a partial or full implementation, respectively, of the 802.11ac standard. He anticipates end-user devices that support 802.11ac Wave 2, including smartphones and tablets, will hit the market in the second half of 2016.
In Maryville, every student from kindergarten to fourth grade will receive an Apple iPad. Older students, from fifth to 12th grade, receive Dell laptops. Raulston expects them all to benefit from 802.11ac Wave 2 APs even though their mobile devices don't support Wave 2 yet. The use of four spatial streams in MU-MIMO should facilitate much faster throughput among the devices, he says.
The district operates a primarily HP wireless network, so in light of HP's acquisition of Aruba Networks this past May, Raulston recently purchased Aruba's 325 and 320 series access points, which support 802.11ac Wave 2, as well as the vendor's wireless controller. He plans to deploy them before the end of the year.
Raulston, who follows a five- to six-year refresh cycle for his wireless infrastructure, believes it will take upwards of two years until a majority of end-user devices support Wave 2 and will be able to take full advantage of the access points.
"I am future-proofing now," he says, to be ready whenever the tipping point for Wave 2 clients hits.
Nolan Greene, research analyst for network infrastructure at IDC, is advising clients to adopt Wave 1 now only if devices are not operating properly on existing infrastructure and there is a desperate need for an upgrade. Otherwise, he says, "Wait until the dust settles, as you'll get a potentially faster and stronger product" with Wave 2.
Already, companies such as Aruba, Cisco and Ruckus Wireless have started shipping Wave 2 products. And IDC predicts that in 2016, 802.11ac shipments will overtake 802.11n due in part to Wave 2.
"Wave 2 will become dominant in a relatively short amount of time," Greene says.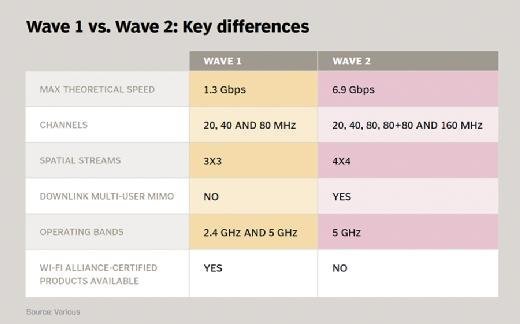 Wave 2: 802.11ac power requirements go up
The most aggressive adopters of 802.11ac Wave 2 will likely be Fortune 500 and Fortune 1,000 companies, Greene predicts. That's because they have the resources to make the large investment to replace their wireless APs and controllers, in addition to upgrading their cabling and switches in many cases. In Wave 2, 802.11ac requires redundant Category 6 cabling to achieve the most benefit, according to Greene.
In Maryville, Raulston already rewired all the schools in the summer of 2014. He also studied the power requirements for Wave 2, which are higher than previous standards, and upgraded his switches to support the higher-output Power over Ethernet (PoE) Plus standard and bought additional power supplies.
Cliff Russell, CIO of Morehouse College in Atlanta, is also a believer in 802.11ac Wave 2. Although he hasn't purchased any Wave 2 products yet, Russell has started to prepare. He is upgrading the college's wireless network from Cisco 802.11n APs to modular ones from Xirrus that support 802.11ac Wave 1 in denser environments around campus, including residence and lecture halls. With Xirrus, he says he'll be able to swap out the Wave 1 radio for Wave 2 when he is ready to upgrade.
He also has beefed up the power capabilities in his wired network infrastructure.
"We used the available higher-capacity, 208-volt power supplies in our HP switches to make sure that we could support whatever PoE load we added to our environment, like VoIP phones, higher-power access points and other PoE devices," Russell says.
Russell accounted for 802.11ac Wave 2 when he recently did a site survey, looking for strong signal propagation and conducting radio frequency tests to ensure that signals don't bounce.
"The more stable streams you can establish, the higher the potential to achieve the throughput the standard supports," he says.
Although site surveys can be expensive, they are critical with 802.11ac Wave 2, according to Zeus Kerravala, founder and principal analyst of ZK Research.
"You don't want two strong-signal access points next to each other, as there could be interference. And if they are too far apart, then you'll have gaps in coverage," he says.
He also recommends reviewing power requirements, as both Raulston and Russell have done. In Wave 2, 802.11ac needs 30-watt PoE Plus, Kerravala says, noting that standard 15-watt PoE can't power a lot of the newer access points.
Rethinking the strategy
Like Raulston, Russell found his earlier wireless strategy did not sufficiently account for today's density demands.
"Who could have predicted the explosion in mobile devices?" he says. "Density requirements have skyrocketed. We have a ratio of eight devices per user. Everything -- including TVs, DVD players and tablets -- wants IP connectivity."
He uses Xirrus' centralized controller to monitor the types of devices the 2,000-plus students bring onto the college's wireless network. His goal is to recognize when the majority begins to support Wave 2. When enough do, he'll swap in the Wave 2 radios.
"We'll be able to base it on our own data, rather than when the industry wants to push it out," Russell says.
IT executives are wise to lay the groundwork for 802.11ac Wave 2 now, Kerravala says.
"The need for preparedness in the network is under-told as part of the upgrade to 802.11ac Wave 2," he says. "For the first time in history, wireless speeds will exceed wired speeds. But it won't do you any good if your network isn't ready."
This was last published in
December 2015
Dig Deeper on Network protocols and standards