Share this item with your network:
Building the infrastructure for the changing face of IT

alphaspirit - Fotolia
Manage
Learn to apply best practices and optimize your operations.
Gaps remain in wireless networking education, but need for skills grows
The WLAN is the new LAN, but many networking education programs don't reflect that. There's a wireless skills gap, and it needs to be addressed.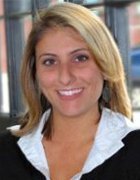 By
It wasn't long ago that the enterprise wireless network was merely considered "plan B." While it could work in a pinch, it was typically slow and erratic when compared to the trusty wired network.
The past decade, however, has seen wireless mature into the primary -- and preferred -- method of connectivity as users demand more support for mobility and as more mobile devices are designed without Ethernet cables in mind.
This shift has shined a light on the skills gap within IT education. In years past, students pursuing a degree in IT were subject to lectures and labs focusing on deploying and troubleshooting wired networks, but the particulars associated with managing Wi-Fi environments were left to be learned on the job. Wireless has become a critical part of IT infrastructure for many enterprises, however, making it increasingly risky to deploy, configure and manage Wi-Fi with the training wheels still on.
While there is some overlap between wired and wireless networking, working with the latter requires unique skills and knowledge -- including an understanding of signaling, spectrum and site surveys -- that are essential for managing more wireless users and devices.
West Chester University (WCU) of Pennsylvania's campus is almost entirely reliant on the wireless LAN (WLAN) as a primary means of connectivity. The university has approximately 50,000 to 60,000 unique Wi-Fi devices connected to its network every month -- that's more than two devices per student--but that wasn't always the case, says Adel Barimani, who recently retired from his position as CIO and vice president of information services at WCU.
The university has had some semblance of a WLAN in place for nearly a decade, but it wasn't fully deployed across all areas of the campus, including lecture halls and dormitories, until about three years ago. And while its IT staff consists of more than 60 full-time employees, only one staff member has received formal wireless networking training through a certification program offered by the university's WLAN vendor.
"The Wi-Fi industry has picked up so much, and there's so much deployment now that most industry folks and higher-education environments haven't quite caught up with all the intricacies that are involved in managing the Wi-Fi," Barimani says. "We need to support all these devices, so we all need more of our folks to get training and certifications [and] do more cross-training between our technicians."
Closing the WLAN skills gap
Once upon a time, computer science and IT programs at the undergraduate and graduate levels could get away with not spending time and resources on WLAN training. But now that wireless has grown from a "nice to have" feature to a must-have connectivity medium, many IT professionals agree that IT education -- both college courses and vendor certification programs alike -- should cover more than the basics, such as WLAN design and management. They say training programs should also teach networking pros how to apply what they learned about wired networking to address WLAN issues.
There's so much [wireless] deployment now that most industry folks and higher-education environments haven't quite caught up with all the intricacies that are involved in managing the Wi-Fi.

Adel Barimani,Former CIO, West Chester University
Jon DiBiasio, IT director for an East Coast-based healthcare organization and a graduate of Northeastern University's computer science program in 2010, says that while wireless technologies were touched upon briefly during classes and labs, the focus of the curriculum was on wired network management.
Because Wi-Fi varies so greatly in different environments, it's not an easy topic to sum up in lectures at the college level, DiBiasio says.
"Schools have no idea how much [budget] you're going to have or what technology you are going to be using, and they have no idea what type of information you're going to be trying to protect," he says.
Both DiBiasio and WCU's Barimani agree that most Wi-Fi vendors offer great support during and after deployment, with comprehensive training for in-house IT staff on their specific equipment. But while that support is helpful, having a stronger wireless background as a foundation will be important for IT students moving forward, Barimani says.
That's just what Texas A&M University is providing with two new courses it offers as a part of its Electronic Systems Engineering Technology program. The classes include labs and lectures based on material from Wi-Fi vendor Aruba's Mobility Academy, a wireless education program for IT professionals.
One of the classes, a senior-level undergraduate course called Wireless Transmission Systems, includes lessons on cellular systems and wireless networking technologies, and it includes lab work in which students interact with wireless controllers and access points loaned by Aruba. After taking the class, which is required for a bachelor's degree in Electronic Systems Engineering Technology, students are eligible to take Aruba's own certification exam, says Ana Goulart, an assistant professor at Texas A&M.
Goulart knew there was a gap in WLAN education, especially as it relates to WLAN design. Even wireless networks outfitted with the most high-end infrastructure on the market can be crippled by poor network design. But tinkering with Aruba's WLAN hardware is helping students apply the concepts they are learning in class, Goulart says.
"Aruba gave us the materials, but I go into a little more depth about signal propagation, interference … and signal quality," she says.
Goulart believes this training will help students in their job searches after college. "I always tell students there are a lot of opportunities … because Wi-Fi is everywhere," she says. "I tell them to put on their resumes that they got this training."
Continuing WLAN education through experience
While having some basic WLAN education as a foundation can be helpful, vendor-sponsored certifications can provide a more advanced understanding of the products likely to be found in an enterprise environment and teach the specific skills needed to fully support a given vendor's technology.
"Since there are so many different products out on the market, when you do take a general background class, you don't focus on one particular product's requirements and technical items," says WCU's Barimani. "[Vendor certifications] are almost a necessity at this point; you have to send your folks through it."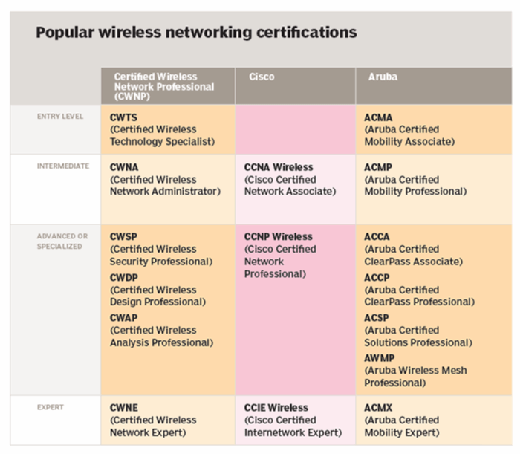 IT professionals must also draw from their wired networking education, including training in basic switching and routing, in order to be better wireless engineers, Goulart adds.
That's because many of the basic principles of wired networking apply to wireless environments too, particularly when it comes to security, explains DiBiasio.
"Once you're on my network, it matters not how you're getting there. It's not that hard to walk around the building, find an empty network jack, sit down next to it and plug in," he says. What matters more is the security of data that could be compromised and the safeguards the IT organization has in place, such as guest user policies.
"An access point is just a switch at the end of the day," DiBiasio adds. "The same steps you could take to protect your wired data, you can apply to your wireless switch."
Formal IT education should include more training on network traffic management, but it doesn't need to focus specifically on wireless networks, DiBiasio says.
"Classes should teach you, 'These are your routes, this is where your network traffic is going, and this is how you change it if there's a problem,'" he says. "When I talk about it like that, you have no idea if I'm talking about wireless or the wired network."
Ultimately, the onus should be on the IT department to roll out further training when it comes to the nitty-gritty of their environments, and that goes for all areas--not just WLAN training.
"Everything you do in IT is not going to be specific to what you learned in class," DiBiasio says. "You have to interpret what they're teaching. They give you broad strokes and the big picture, and you have to be able to utilize that out in the world."
This was last published in
April 2015
Dig Deeper on Networking careers and certifications