Free book giveaway: 'CCNA Official Exam Certification Library'
Readers willing to share their reporting structure within their company entered for a chance to win the 'CCNA Official Exam Certification Library, Third Edition.' Congratulations to our winners, and to those who didn't win, there are still more opportunities to expand your CCNA knowledge and win other book contests.

SearchNetworking.com sought readers willing to share their company's reporting structure -- what position they're in and who they report to -- in order to qualify for a chance to win Cisco Press' CCNA Official Exam Certification Library, Third Edition.

For the month of June, 2008, the site's editors collected hundreds of entries daily, and after diligently gathering them all, chose 10 winners. Please join us in congratulating our lucky readers:
Wayne Anderson
Abel Briano
Jeffrey Colwell
Marcos Evangelista
Teresa Flug
Jami Heyinig
John Kenyon
Richard Orwin
Dawn Shiflett
Brandon Swendsen

Although they have the luxury of owning the newest edition of the all-time best-selling CCNA self-study preparation package, you can take away some advice from the library author in this Q&A interview with Wendell Odom. Understand what a CCNA certification can add to your career as well as how much time you need to spend to study in order to successfully pass your exams.

If you need more to chew on, members of SearchNetworking.com can download two complimentary book chapters from this library to get ahead of the curve: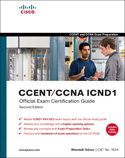 Download Wireless LANs, Chapter 11 of CCENT/CCNA ICND1 Official Exam Certification Guide, Second Edition to understand the basics of WLANs. In particular, the first section introduces the concepts, protocols, and standards used by many of the most common WLAN installations today. The chapter then examines some basic installation steps. The last major section looks at WLAN security, which is particularly important because the WLAN signals are much more susceptible to being intercepted by an attacker than Ethernet LANs.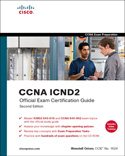 Download Troubleshooting IP routing, Chapter 7 of CCNA Official Exam Certification Library, Third Edition. This chapter focuses on troubleshooting the IP routing process. To that end, it begins with a section about two important troubleshooting tools: ping and traceroute. Following that, the chapter examines the IP routing process from a troubleshooting perspective, particularly focusing on how to isolate routing problems to identify the root cause of the problem. The final section covers a wide variety of small topics, all of which can be useful when you're troubleshooting IP routing problems.
If you would like to be notified of other book contests by SearchNetworking.com, please let us know.
Dig Deeper on Networking careers and certifications