Get started
Bring yourself up to speed with our introductory content.
Complex apps need network-based application performance management tools
As more networking pros get pulled into application performance management, they need tools that speak their language. Meet network-based APM.
In matters of IT, hard facts and statistics trump opinions and emotions. But the facts have to be visible and accessible to the entire IT team for them to bear any significance.
Application performance management (APM) has had a reputation of being a technology that provides crucial data yet is also one that's hard to manage, often requiring the expertise of a dedicated application management professional who understood application architectures. But new approaches to APM are helping to break down the silos and provide a level of visibility that can help put everyone in the IT organization -- including networking professionals -- on the same page.
"The new approaches to APM are helping to pull people together in a way that has not been done before, and a lot of that has to do with simplifying the effort to do the investigation and diagnosis so that all of [IT] can understand it, have a technical conversation around it and stop the finger-pointing," says Marc Gillitzer, director of application platforms at Life Time Fitness Inc., a Chanhassen, Minn.-based chain of fitness centers in the United States and Canada.
There hasn't been one consistent or objectively correct way to implement APM that will work for every business, and it's been a daunting undertaking for many IT professionals as a result. And as mobility, cloud computing and virtualization take on bigger roles for many enterprises, APM is becoming increasingly complicated because these technologies introduce many new factors that can affect the end-to-end performance of what are often now highly distributed applications.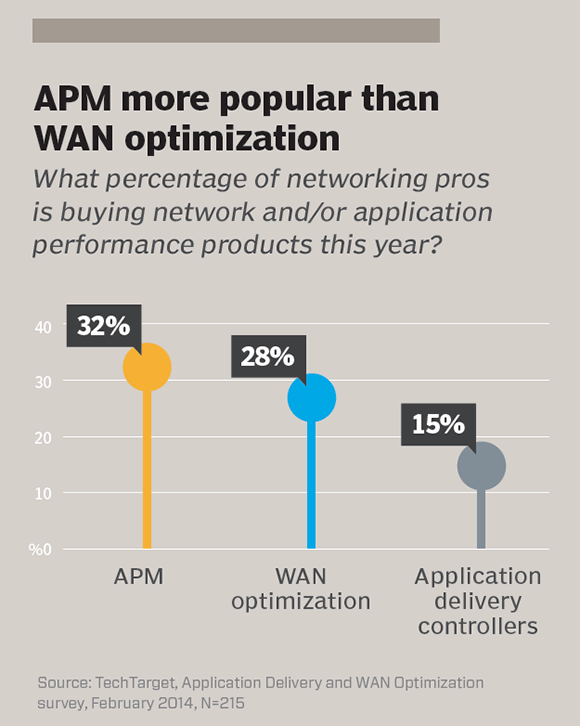 As if this didn't make APM nebulous enough, new approaches to it are also emerging, namely network-based APM -- an agentless system that taps into existing network devices and watches network content and traffic as it flows across the enterprise, analyzing application response times and identifying errors using wire protocols. It's a departure from conventional approaches to APM, which used agents installed on application servers to obtain a sample of performance metrics from a select number of points throughout the IT environment -- including the local area network, wide area network and any relevant databases -- to see where a legacy application was being tripped up.
Although network-based APM is still limited in terms of its vantage point, as it's typically used for seeing how long an application takes to travel between hops on the network, it's an important perspective that many vendors are including within their suite of APM tools.
Having an APM strategy that includes deeper network visibility can help enterprises better measure and manage application performance, but the advent of network-based APM begs the question of who will now bear the burden of APM: Will it be the application group, or will this be another job for the networking team?
What kind of visibility does each model offer?
Traditional APM methods involved collecting application activity measurements -- such as response times of Web application components -- and some end user response metrics, but many IT organizations have had difficulty keeping APM agents consistently configured to follow their enterprise's specific set of distributed applications.
"With conventional APM, you end up cobbling together other solutions to provide that 360[-degree] view of the application," says Gillitzer, who had combined metrics from several Opnet tools to monitor packet flows and application activities before making the switch to AppDynamics' APM tools, which include network visibility among other metrics.
Rather than dedicating one IT professional to monitoring APM, the AppDynamics tools have allowed Gillitzer to spread APM visibility around his IT organization, including the networking team. The new tools also allow APM to be done at the database level -- a first for Life Time Fitness.
"We now have APM instrumenting our .NET and Java applications, and you can watch the traffic go through the different tiers," he says. "It's exposing and showing us things that you'd never see when getting into your logs, and that's really important as distributed applications become more complicated. If you can't bring up the page quickly and cleanly, [customers] will leave."
To measure performance in a diverse environment and among dynamic applications, instrumentation is needed in every place. Network-based APM appliances can track application performance metrics by monitoring the network. The network viewpoint also gives IT insight into other issues that may affect application performance, such as network congestion.
T2 Systems Inc. -- an Indianapolis-based software company whose products help public and private organizations manage their parking lots, meters, permit programs and other related operations -- uses ExtraHop's network-based APM tools to monitor and deliver its applications as Software as a Service to customers. The network-centric view is giving the company a "real world" production view of application performance, as opposed to measuring just what developers see in a controlled setting during testing phases, which is what conventional APM platforms would offer, says Jim Hutchins, chief technology officer and executive vice president of T2 Systems.
T2 recently turned to its APM platform to help solve a serious operational problem one of its larger customers experienced when a cache file was not transmitting correctly from T2 to the end customer, bogging down the system. Since more IT professionals within the organization now had access to the APM tools, an IT staff member with a background in networking was able to jump in and help.
"We had one of our IT pros that comes from a developer background scratching his head, saying what the customer was experiencing was impossible," Hutchins says. "One of our IT guys, who typically would have had no visibility into this, basically debugged what was happening with the application using the APM tool."
How network-based APM is changing IT
Blended, cross-functional groups are popping up in IT departments as more technologies in the data center overlap. The IT generalists in these groups are being tasked with application management and must have expertise in multiple disciplines -- including network operations.
"These new groups managing applications could very well include folks with networking expertise who can understand network-focused tools to gauge application performance and do some troubleshooting," says Julie Craig, research director of application management for Boulder, Colo.-based Enterprise Management Associates Inc.
T2 Systems has adopted this model, dividing its IT organization into two groups: operations and development.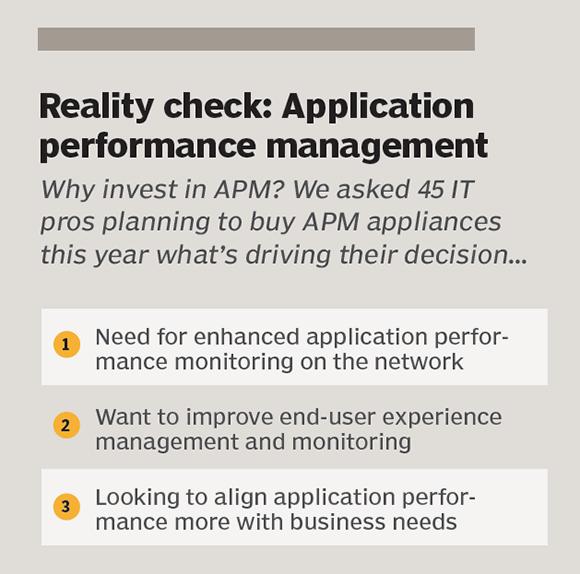 "We don't have an 'applications guy,' and any one of our IT generalists in our organization can log into the ExtraHop tool to monitor applications," says T2's Hutchins. "We have a 40-inch TV on the wall and everyone on our operations team is constantly using [it to view the APM dashboard], and now our development team uses the tools to see networking metadata about how the application is performing."
APM tools have matured to a point where they can be -- and already are being -- shared by more than just the app group.
"Sometimes, other groups need to have some self-service capabilities to be able to investigate an issue on their own, without having to go to the app group all the time," says Life Time Fitness's Gillitzer.
Rather than serve as a point of contention, evolving APM tools are helping to solve the existing silo problem that has plagued the IT industry.
"These tools give IT professionals a more common place to rally around," Gillitzer adds.
Lexmark, a laser printer manufacturer and print services company based in Lexington, Ky., recently implemented an APM appliance from CA Technologies, using it to instrument 1,800 servers and approximately 2,400 network devices for a deeper dive into end-user experience for its CRM software and other tier-one applications. Lexmark's new approach to APM is offering a clearer, more transparent view of the environment, a view that the entire IT team appreciates, says Lance Neal, IT program manager for Lexmark's IT Operational Excellence program.
"It's always going to be the network's fault, according to development, so having visibility cuts down on a lot of the guessing and passing of blame," Neal says. "We have given access to the CA tools to anyone [in the IT organization and trusted partners], and they can log in, see what's going on and [see] if it's coming from their domain–the network, infrastructure or application. The transparency and visibility is liberating for all parties involved."
The APM tools from CA Technologies combine conventional application monitoring with network-based APM, but they haven't added any new work for the networking team, Neal says. In fact, this approach has had the opposite effect.
"Using the tools and breaking down the organizational support silos are helping us see things before they become an issue for our customers in the first place, and therefore allows the team to focus on more strategic value-added work," he says.
This was last published in
April 2014