Common WAN networking misconceptions for A+ exam test takers
In this Q&A with 'CompTIA A+ 220-701 and 220-702 Exam Cram' book author David Prowse, see what common misconceptions A+ exam takers have about WAN networking, VPNs and troubleshooting.
The CompTIA A+ exam is the standard certification needed for computer support technicians. IT beginners who want to work for corporations such as Microsoft, HP, Cisco or Novell must first pass the A+ exam. With the help of David Prowse's CompTIA A+ Exam Cram 220-701 & 220-702 Fifth Edition, test takers can pass this exam with flying colors. We interviewed Prowse on common wide area network (WAN) questions and WAN networking concepts. In this Q&A, we discuss the misconceptions, limitations and scope of WAN networking questions covered in the A+ exam. These topics are necessary for all beginner computer support technicians to know before taking the test and vital to any IT professional needing a refresher.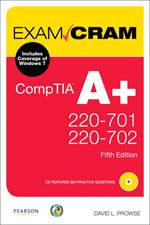 Are there any common questions that the A+ exam test takers get wrong about wide area networks?
David Prowse: When A+ examinees take the test, they might see questions referring to WAN networking links, like T1, ISDN connections or things of that matter. Quite often, when students and I do practice exams together, the types of questions I see them getting wrong have to do with the speeds of connections or their purpose. In general, a student might forget that a WAN is going to connect two or more local area networks (LANs) and it's going to be over a larger geographic area, which means it's going to require a data communications company or an ISP for that high-speed WAN link. It's also important to know the different types of connections that a WAN might have, such as a T1 or frame relay connection, and understand what those connections are and the speeds they can operate at.
What are the common misconceptions that WAN networking neophytes have about WANs or VPNs?
Prowse: If there are any misconceptions at all, someone who's a beginner with networking might forget or might not realize that speed and security might not be exactly what they're looking for or what they're expecting. For example, a lot of new people to WAN networking are used to going on the Internet and getting their information fairly quickly. With many companies out there, they might have a WAN link that doesn't work nearly as fast, and the WAN link really has to be screened for the type of traffic that goes across it. As far as VPNs go, security can be an issue, and a lot of new people to networking might realize that the security really has to be looked at in depth. A basic VPN will have, for example, a PPTP connection, but for many organizations this won't be enough security, and they're going to be looking for a L2TP connection with IPsec or something of that nature. I would say that misconceptions generally revolve around speed and security when it comes to WANs and VPNs.
Does ISDN have any limitations, or can you think of any upgrades to ISDN that businesses would benefit from?
Prowse: Well, any connection has limitations, but sometimes ISDN is necessary in certain areas of the country because it's the only connection a company can get. ISDN is basically broken down into two types: BRI and PRI. BRI, or Basic Rate Interface, maxes out at 128 Kbps. What that means to a company that's using it is that eight people can get onto the Internet simultaneously, so that's definitely a limitation there. The PRI, or Primary Rate Interface, has a maximum data throughput of 1.36Mbps. For a lot of companies, that probably won't be enough. Nowadays a lot of companies will use ISDN as a backup, or because it has low latency, they might use it for a special video conferencing line or something of that nature. If a company does feel that ISDN is limiting them, upgrades to ISDN—such as changing over to a T1 line or frame relay connection—might help when it comes to sending a lot of data.
Your book discusses how to troubleshoot client connectivity from the command line interface (CLI) and by using applications like Microsoft Outlook and Windows Firewall. Are there other troubleshooting tools you would recommend to WAN networking engineers or are the basics covered in the A+ exam?
Prowse: The networking basics are definitely excellent tools for troubleshooting connectivity. If you're taking the ping command and traceroute and PathPing, those are definitely great tools, and any WAN networking engineer or WAN monitoring person should use them. But there are other tools as well that can be downloaded for free, and then there's always pay tools. Tools such as Nmap and ngrep are great for testing and troubleshooting connectivity. There are a lot of different tools that you can download that you can use in the command line and in a GUI environment.
Packet analysis tools such as Wireshark should also be used. Another example of a packet analysis or a packet capturing tool would be Network Monitor, which is within Windows. (The full version of that would be SMS, System Management Server). Then there are third-party tools that are pay tools, such as HP Open View. Those tools are going to cost the company some money, but they automate everything and show everything in a GUI so a person can easily see all of their WAN networking links and different devices on the WAN and troubleshoot them using graphical representationS. The basic tools like PathPing and tracert are great, but other tools like Nmap, Wireshark or HP OpenView are excellent tools to use as well.
⇒ Continue reading this interview to learn about IPv6 basics.
Dig Deeper on Networking careers and certifications