kentoh - Fotolia
Evaluate
Weigh the pros and cons of technologies, products and projects you are considering.
Cloud-managed wireless: Why network engineers love it
Cloud-managed wireless is growing three times faster than the wireless LAN market as a whole. Network engineers rave about its benefits, but it's not for everyone.
There are so many things for Lee Badman to do in Florence, Italy.
There's the iconic Duomo, with its famous octagonal dome made of burnt orange bricks overlooking the city that gave birth to the Renaissance. Michelangelo's statue of David holds court in the nearby Uffizi Gallery. Tucked away on cobblestone side streets, a dizzying number of family-run trattorie entice diners with Tuscan cuisine and wine.
Luckily for Badman, a network architect at a large private university in upstate New York, manually setting up a wireless network at the university's satellite campus in the historic Italian city isn't on his things to do when visiting Florence.
That's because Badman used a cloud-based wireless network management platform to design, build and configure an entire network for the Florence campus -- including wired assets -- from his office in Syracuse. After he entered his sales order number into the vendor's dashboard, the system autopopulated a list of everything Badman ordered and made it available for configuration before the products even shipped. Everything, from site-to-site virtual private network (VPN) tunnels to local switching to wireless access point (AP) policies, was ready to go when the infrastructure arrived from Meraki, a cloud networking vendor Badman tapped before Cisco acquired it in 2012.
"It was just waiting to be brought to life, and I could do that at a time of my choosing and at a pace that allowed me to not rush after it was all delivered," Badman says. "We had it delivered directly to the site and had a non-network guy who was capable of just following directions: 'Plug this into here, plug that into there, meet with the ISP, and make sure that when they connect, this is the thing they connect to.'"
It's an approach that appeals to more and more networking professionals -- thanks to maturing feature sets and a growing acceptance of cloud-based technologies -- making cloud-managed Wi-Fi one of the fastest-growing segments of the wireless LAN (WLAN) market. IDC expects the cloud-managed WLAN infrastructure market to achieve a 38.8% compounded annual growth rate (CAGR) between 2013 and 2018. In comparison, the CAGR forecast for the overall WLAN infrastructure market over that period is 11%.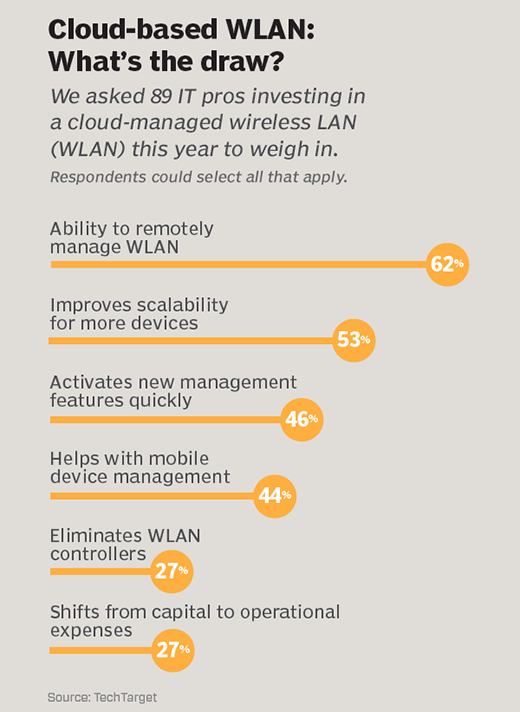 Although cloud-managed Wi-Fi got its footing several years ago among small businesses like neighborhood coffee shops and single-office companies with few IT personnel, the model has since caught on with larger organizations that are highly distributed -- including retailers, hotel chains, large school districts and franchises. These enterprises are looking for a more efficient alternative to buying, maintaining and upgrading hardware appliances at dozens or hundreds of locations that have little or no on-site IT presence.
If you have franchises or small environments distributed all over the place, I can't imagine not using a cloud model at this point.

Lee Badmannetwork engineer
Sold as a subscription-based service, cloud-managed wireless isn't the right model for every enterprise. But for those that fit the profile, it can help bring large-scale, enterprise-grade wireless to locations networking pros otherwise couldn't serve.
"If you have franchises or small environments distributed all over the place, I can't imagine not using a cloud model at this point," Badman says. "Where you have no IT people or very few IT people at another site or where the site is going to be, cloud makes perfect sense."
The market growth comes as cloud-managed WLAN vendors offer more robust features and add support for cloud-based management of some wired network assets -- getting those tools closer to being on par with traditional on-premises network management platforms.
"When we first started, the cloud-based [management tool] wouldn't do some of the things that we needed, but now all of the feature sets that you get on-premises you have in the cloud," says Jimmy Hogg, director of technical operations at Pulaski County Special School District in Little Rock, Ark. Hogg and his team plan to migrate from Aerohive Networks' on-premises WLAN management platform, HiveManager, to the cloud-based version. "We really didn't want to continue to support those servers and the backups and maintenance, so we're moving it over to the cloud so that, basically, Aerohive can take care of all of that instead of us," he adds.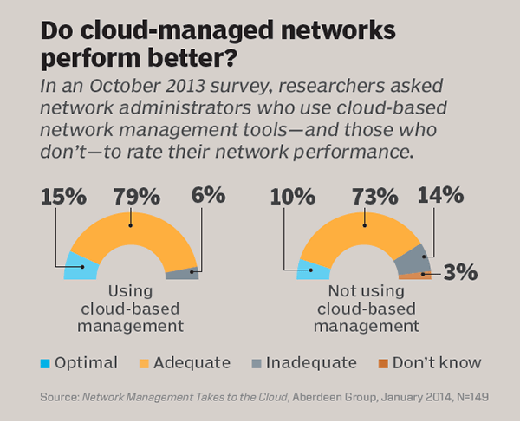 What is cloud-managed wireless?
There are two prevailing models of cloud-managed wireless: One embeds both the wireless controller and network management software in the cloud, and the other puts only the management functions there. Typically, neither passes user traffic through the cloud, so if the connection to the cloud service is lost, the WLAN remains available, although access to some administrator functions is disrupted.
"I'm the first to admit that I'm not prone to go cloud management or service-managed at all. I'm one of those guys that love control," says Aaron Paxson, global network manager at SVP Worldwide, a sewing machine manufacturer based in LaVergne, Tenn. "I love doing things myself, and I don't like having somebody else do it for me, so it takes a reasonable amount of effort to convince me to move anything outside of my control."
Paxson uses Aruba Networks' cloud-based management platform, Aruba Central, to run his wireless network. "That was one of the reasons why I'm more apt to do [cloud-managed wireless]: My wireless is not through the cloud," he adds. "All of my wireless is local to my network, so I can still maintain and have control of that data."
Administrators access the vendor's dashboard through a Web-based GUI that can be configured to allow access from anywhere with an Internet connection.
"With your legacy servers and controllers, out of necessity and good practices, the only way you reach them is via the VPN in your home environment, and then you'll grab a remote desktop," says Badman, who also authors the blog wirednot. "So it's just kind of liberating to be able to go out to the Internet, or depending on whose hardware you use -- Meraki has a really nice [mobile] app, for example -- and just pull up all of your cloud-managed spaces on an app and see what's going on with them."
Cloud-based WLAN management is sold as a subscription-based service, which offloads the capital and operational expenses of deploying, securing, updating, backing up, powering and cooling appliances that would otherwise be the enterprise's responsibility in a traditional on-premises model. Compatible APs and other network devices are purchased separately, and deployed and maintained on site by the enterprise IT department.
Although the market was once fairly small, with Aerohive and Meraki as the two mainstream options, Cisco's grab for Meraki in 2012 prompted more WLAN vendors to get in the cloud-managed game, according to Nolan Greene, research analyst at IDC. Following Aruba's and Xirrus' march into cloud Wi-Fi last year, other notable names in wireless including HP, Motorola Solutions and Ruckus Wireless all launched cloud-based WLAN management services this year. They joined specialized vendors that deal only in cloud-managed wireless, such as AirTight Networks, which jumped into cloud Wi-Fi in 2011, and startup Relay2, which launched its cloud Wi-Fi platform earlier this year.
"In the last year, the number of vendors who are offering something has blown up," Greene says. "Before, if you knew you wanted cloud, it was Aerohive or Meraki -- and there was a fairly distinct differentiation [between them]. Now there is a wider range of vendors, and the differences between each of them are a little more nuanced."
Cloud Wi-Fi relieves maintenance burden
Although it's true that no two cloud Wi-Fi deployments are the same, one thing they all have in common is network engineers who are thrilled to have an empty rack in their data centers where a management server or controller would otherwise be.
"It's one less thing that I have to worry about -- one less software appliance that's installed and configured," Paxson says. "I don't have to worry about bug fixes anymore. I don't have to worry about updating my firmware anymore. Now, that is done in Aruba Central, so I've always got the latest and greatest out of the cloud management [platform] instead of having to always upgrade."
At the Pulaski County school district, IT pros are preparing for an iPad initiative that will put Apple tablets in the hands of every student and teacher -- about 15,000 iPads over the next three years. Hogg, the district's director of technical services, and his boss, CTO Will Reid, expect to have their hands full managing endpoints and the wireless networks at 36 schools. Their decision to offload the maintenance of Aerohive's HiveManager platform to the cloud couldn't come at a better time, they say.
"We're being asked to do more with less all the time," Reid says. "We've got a whole lot more technology in the classroom today than we ever did, but it's not as if you can hire a whole new set of team members."
"And we still have to work real hard to support the wireless [network] itself," Hogg adds. "It's just that the [WLAN management] server piece of that -- the hosting piece of that -- we don't have to deal with."
Some networking pros have also found cloud-based management platforms to be more user-friendly.
Thao Xiong, network manager at the Milpitas Unified School District, which comprises 13 schools in Milpitas, Calif., says Meraki's Web-based GUI makes it easy to replicate configuration changes throughout the network, as opposed to the more manual process for configuring RADIUS authentication and assigning access policies on several premises-based Cisco controllers.
"In the cloud-based [platform], you can do one configuration and copy it straight through. It's sort of the same, but it's much quicker, and you don't really need to know any of the commands," Xiong says. "You have to have someone who really knows the ins and outs of Cisco IOS to configure a lot of the options in a traditional [controller]."
Getting wireless deployed faster throughout the district's 13 sites wasn't just a matter of convenience when the network was installed in 2012. Due to the way the city handles its budget, the IT team didn't get funding until mid-July of that year, even though the network needed to be ready before students returned in late August.
"If we were to do the traditional controller install and configure each of the controllers, it would've taken us a much longer time," says Chin Song, the district's director of technology. "And now, if we need to add access points in classrooms or other spaces, all we have to do is run an Ethernet cable, plug it in and go."
For networking pros using a cloud-based controller, that ability to scale without additional hardware is often a big draw for organizations that are unsure of their needs, says Matthias Machowinski, a directing analyst at Infonetics Research.
"You have a controller, and it's some kind of limitation. Maybe it can only handle 50 to 100 access points, but if your infrastructure's growing to 101 access points, you need another controller," he says. "With a services-based approach, it doesn't matter; the infrastructure grows right along with it."
And for many enterprises, the beauty of cloud-managed WLANs is their ability to set up enterprise-grade wireless with minimal resources.
"We have a lot of sites that are not directly connected to our private network, so if we bring up wireless there, we're going to have to configure that wireless standalone because there's no way for it to get its configuration [from a centralized platform]," says SVP Worldwide's Paxson. "But 99% of all sites have a connection to the Internet, so … the configurations are automatically downloaded and brought online, and it does not require me to send out a technician or have any kind of technical expertise at those remote areas."
Enterprises not 'going to go cloud-managed overnight'
Cloud-managed Wi-Fi isn't the best fit for everyone, however. Network engineers who use the approach agree that they would be more hesitant to adopt it if they had more stringent security requirements or had more complex needs. Moreover, large enterprises already have sunk a lot into legacy investments.
"Big enterprise customers have been doing wireless for so long that their networks are established," Badman says. "Nobody's about to just throw in the towel because migrating huge environments takes so much money, and if you haven't completely had it with your vendor, it's really hard to just jump ship as a big customer."
In a 2013 survey of 162 IT pros, Infonetics Research found that nearly half of respondents (48%) expected to use a cloud-based service for AP management by 2015 -- up from 35% the previous year. And while cloud-managed Wi-Fi is expected to take off in certain markets, such buyer projections can often be overly optimistic, cautions Machowinski.
"The world isn't going to go cloud-managed overnight, but we are definitely seeing big growth here," he says.
It's expected to only represent 20% of the total WLAN infrastructure market by 2018, at which point growth will likely taper off, says IDC's Greene. That's because it isn't designed to usurp an existing premises-based WLAN deployment. Instead, cloud-managed Wi-Fi targets a select market that sees a growing need for wireless but lacks the resources to do a traditional implementation everywhere, Greene adds.
"[These customers] need enterprise-grade Wi-Fi for the security that is embedded in enterprise solutions, as opposed to a consumer-grade solution that you'd pick up at Office Depot," he says. "This really brings enterprise-grade Wi-Fi to the last places where it hasn't penetrated and where the needs are much more complex than what can be offered in a consumer-grade solution."
This was last published in
December 2014