Fotolia
Evaluate
Weigh the pros and cons of technologies, products and projects you are considering.
As WLANs grow, so does need for secure wireless networks
Wireless LANs are growing in size and importance, making it imperative for every networking pro to ensure they have a secure wireless network.
The trusty Ethernet wall jack has seen better days. Although hard-wired connections offer better speeds and greater reliability than wireless networks, users increasingly favor Wi-Fi as the connectivity medium of choice.
Access point (AP) shipments were up 14% in the third quarter of 2014 compared to the previous year, reported Infonetics Research. Meanwhile, wireless devices are expected to account for 61% of IP traffic by 2018 -- according to Cisco's "2014 Visual Networking Index" -- while wired devices will make up 39% of traffic. As recently as 2013, wired devices still accounted for the majority of traffic at 56%.
The preference for wireless isn't just a matter of convenience. Mobile devices are playing a greater role in how enterprise users get their work done, and devices like Apple's iPhones and iPads don't even have an Ethernet port. For enterprise networking pros, this increased reliance on corporate Wi-Fi means a secure wireless network is no longer optional.
In light of today's sophisticated threats, however, securing a wireless LAN (WLAN) requires more effort than simply password-protecting your service set identifier (SSID). A secure wireless network uses the latest form of encryption -- Wi-Fi Protected Access 2 (WPA2) -- along with other best practices. These include using 802.1X for stronger authentication, restricting guest networks to separate virtual LANs (VLANs) with harsher policies, scanning for rogue APs, and using strong passwords on APs and changing them every three months.
In the following pair of infographics, first learn how enterprise WLANs are growing in size and importance, consequently driving the need for more secure wireless networks. Then, find out how vulnerable wireless networks really are, plus what happens when WLAN security is ignored.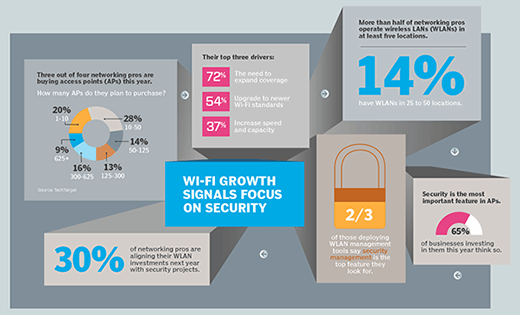 In this second infographic, we dive into the role wireless security played in the notorious series of hacks on TJX Companies in 2007 that resulted in cybercriminals making off with 45 million debit and credit card numbers. And while network devices like switches and routers themselves are now rarely the direct targets of attack, according to Verizon's "2014 Data Breach Investigations Report," poorly secured networks continue to be a vulnerability that hackers don't hesitate to exploit.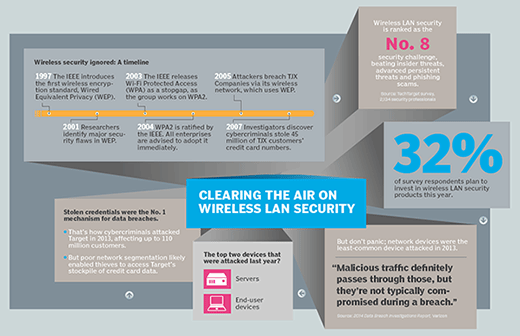 Next Steps
Is wireless security really all that different from wired network security?
Risk assessment is a critical piece of wireless network security in healthcare
Learn more about how wireless network security is transforming
This was last published in
January 2015