Get started
Bring yourself up to speed with our introductory content.
Your manual to the modern cloud computing network
Making networks work quickly and securely in the modern cloud age is not easy. Here's what you must know to fashion a fast-moving, cloud-connected enterprise network today.
Introduction
How does cloud computing affect the network? A short question, but the answers are many and varied. This collection examines the subject of cloud computing networks from many angles, from the basics of terminology to the latest advances, like software-defined networking. If your enterprise is considering the cloud, or already there, this guide is essential for you.
1

THE BASICS

-
The basics of cloud and the network
To fashion a secure network in the cloud era, it is important to get the basics under your belt. This section offers an overview of cloud history, covers the basics of a cloud-computing architecture, and looks at key issues like visibility, cloud types and more.
2

CLOUD NETWORK

-
Connecting to the cloud
There are so many basic cloud variations -- private, public, hybrid -- and so many ways in which vendors and enterprises can use them. At the core, though, is cloud networking -- that is, connecting the cloud to those on the network who need to use it. This module looks the details of developing your approach to cloud networking.

Download this free guide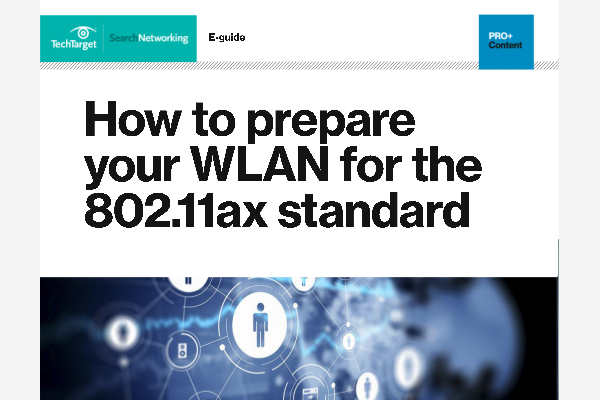 How to Prepare your WLAN for the 802.11ax Standard
Currently planned for release in 2019, the 802.11ax standard offers 10 Gbps speeds –up to 40% faster than Wave 2 802.11ac. Find out how this will be a game changer, and why anyone with skin in the game should start educating themselves now.
3

CLOUD WAN

-
WAN and the cloud
Where do the cloud and the wide area network (WAN) intersect in your enterprise? And how do you get the best performance from each? This module breaks it all down and guides you to the best way to use cloud with your WAN.
Tip
Tom Nolle explains the dividing line between cloud and the wide area network, and how to create the best WAN connectivity for cloud computing. Continue Reading
News
With cloud, data centers no longer work as Internet gateways; enterprises must reinvent their WAN architecture. Continue Reading
Tip
Learn what experts have to say about improving enterprise cloud performance over the WAN. Continue Reading
4

CLOUD SDN

-
SDN and the cloud
Software-defined networking (SDN) is key to the future of networking, and it seems poised to solve a lot of thorny cloud-network issues too. This section looks at how SDN will affect the network, cloud security, data centers, and consider, too, how OpenFlow factors in.
5

CLOUD SECURITY

-
Security and the cloud
When it comes to computers, and networks, security is always a top issue. This module offers a primer on security in cloud computing and how to make sure your cloud-connected network stays safe.
6

GLOSSARY

-
Key cloud network terms to know
To understand the issues related to cloud and networking requires some basic terminology. Is your vocabulary current?