 BACKGROUND IMAGE: iSTOCK/GETTY IMAGES
Improving app delivery: Make traditional IT and cloud work together
Editor's note

In most enterprises today, applications are delivered via a hybrid infrastructure that can include private cloud, public cloud and in-house systems. Whatever the mix, networking pros are responsible for making sure employees can access the apps they need when they need them. The secret to success is to optimize app delivery and performance by getting all elements of the IT infrastructure working together. Luckily there are new technologies a network pro can use. This Networking Classroom -- a video, podcast, tip and quiz -- reviews the state of the hybrid cloud environment, separates myth from fact, and helps networking pros learn the options available for making sure cloud-based apps work optimally.
1

How cloud helps IT deliver apps to users

Today most companies are operating in a hybrid cloud environment, using many applications that are delivered via the Internet from a provider. The hybrid cloud works by mixing internal and external, and public and private, resources to deliver applications and other IT services to users. What's key -- whatever the particular configuration of your company's hybrid cloud -- is ensuring smooth delivery of apps wherever your employees are. Fortunately, as John Burke explains, there are tools to make this job easier for IT pros. They include QoS controls, WAN accelerators and controls over how access to SaaS applications. Absorbing the material in Burke's tip will help you guarantee that, even in the hybrid cloud age, your department ensures high performance to users.

Download this free guide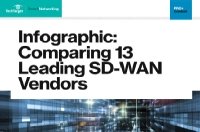 Free SD-WAN Infographic: Cisco vs. FatPipe vs. 11 More
Preparing for SD-WAN deployment requires substantial research to determine what your organization needs from your WAN. And the growing number of options on the market can make the decision-making process overwhelming. To help, dive into FAQs about SD-WAN deployment, and the important features to consider, such as security, cloud connectivity, pricing and more.
2

Do you know how to optimize app delivery in the hybrid cloud era?

In this Networking School, John Burke explains in detail what IT network pros need to know about how to optimize application delivery, regardless of how centralized and traditional the in-house IT infrastructure or how complex the enterprise's cloud environment. If you listened to the podcast, viewed the webcast and read the tip, you should have the knowledge now to tackle even the most complex hybrid cloud configuration. But just to be sure, take our quiz and see!