In general, a zone is an area of administration. The meaning is similar to that of domain. Specific networking environments use the term to mean somewhat different things:
1) In the domain name system (DNS) environment, a zone is the name space allocated for a particular server. A zone file maintains instructions for resolving specified Internet domain names to the appropriate number form of an Internet Protocol address (an IP address).
Content Continues Below

Download this free guide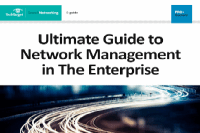 Download: Guide to Network Management in the Enterprise
Network management is a cornerstone of IT that helps ensure that enterprises run efficiently and effectively end to end. In this network management guide, we dig deep into functions, techniques, best practices, next-generation technology (like AI and machine learning), and more. Download now to help ensure that you have a resilient network for current and future demands.
2) In an H.323 multimedia network, a zone is a group of terminals, multipoint control units (MCUs), and gateways within a particular domain. A zone may be a relatively permanent configuration of devices, or just a runtime entity established for a particular event. An administrative tool called a gatekeeper controls interactions for each zone.
3) In Apple computers, a zone is a logical group of network devices using AppleTalk.
This was last updated in
September 2005
Dig Deeper on Network Infrastructure