Definition
transactional e-mail
Transactional e-mail is a type of Web-based marketing in which e-mail recipients can buy goods and services directly from an e-mail message, without being redirected to the retailer's Web site. According to proponents, transactional e-mail leads to significantly higher conversion rates - the ratio of shoppers to buyers, which goes up when the former is converted to the latter - than regular e-mail marketing approaches. A number of different transactional e-mail products are available, from Cybuy, Radical Communication, and EActive, among others.
Content Continues Below

Download this free guide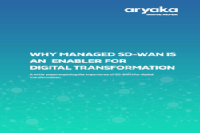 How SD-WAN Can Help Enable Digital Transformation
When embarking on digital transformation initiatives, its important to factor in WAN design to avoid poor application performance and customer dissatisfaction. In this white paper, you'll explore the drawbacks of traditional WAN architectures and how a managed SD-WAN service can overcome some of these challenges.
The transactional e-mail retail experience is easier, and minimizes the tasks involved in online shopping. Within the body of the message, an e-mail recipient can view merchandise, select items, and submit an order. Typically, the e-mail messages contain windows that change to display different products when the recipient clicks listed items. A message assuring the customer of the security of the transaction, and an order form are displayed when the customer clicks the appropriate buttons. When the order form is completed, the customer clicks the "submit" button, and resumes reading their other e-mail messages.
Zagat's, a well-known distributor of restaurant guides, tried transactional e-mail sales for the 2000 holiday season, allowing customers to buy restaurant guides directly from the body of the e-mail message, rather than just including a link to their Web site. The campaign attained conversion rates five times as high as those of regular e-mail marketing. Besides making shopping simpler for the consumer, transactional e-mail also takes into account the fact that someone who is reading e-mail is doing just that: reading their e-mail. Marketing messages, even for interesting products, may be set aside because they interfere with the task at hand. Even if the consumer wants to buy a product, they may not respond to traditional e-mail marketing messages, because the process involved (going to the retailer's Web site, going to separate pages to order, and so on) is too cumbersome. Transactional e-mail also makes impulse purchases more likely, because a transaction can be completed before the customer grows weary of the procedures involved.
This was last updated in
September 2005
Continue Reading About transactional e-mail
Dig Deeper on Network Infrastructure