Definition
single mode fiber
In optical fiber technology, single mode fiber is optical fiber that is designed for the transmission of a single ray or mode of light as a carrier and is used for long-distance signal transmission. For short distances, multimode fiber is used.

Download this free guide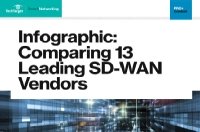 Free SD-WAN Infographic: Cisco vs. FatPipe vs. 11 More
Preparing for SD-WAN deployment requires substantial research to determine what your organization needs from your WAN. And the growing number of options on the market can make the decision-making process overwhelming. To help, dive into FAQs about SD-WAN deployment, and the important features to consider, such as security, cloud connectivity, pricing and more.
Single mode fiber has a much smaller core than multimode fiber.