A set-top box is a device that enables a television set to become a user interface to the Internet and also enables a television set to receive and decode digital television (DTV) broadcasts. DTV set-top boxes are sometimes called receivers. A set-top box is necessary to television viewers who wish to use their current analog television sets to receive digital broadcasts. It is estimated that 35 million homes will use digital set-top boxes by the end of 2006, the estimated year ending the transition to DTV.
In the Internet realm, a set-top box is really a specialized computer that can "talk to" the Internet - that is, it contains a Web browser (which is really a Hypertext Transfer Protocol client) and the Internet's main program, TCP/IP. The service to which the set-top box is attached may be through a telephone line as, for example, with WebTV, or through a cable TV company like TCI.
Content Continues Below

Download this free guide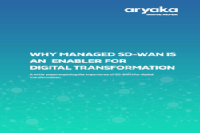 How SD-WAN Can Help Enable Digital Transformation
When embarking on digital transformation initiatives, its important to factor in WAN design to avoid poor application performance and customer dissatisfaction. In this white paper, you'll explore the drawbacks of traditional WAN architectures and how a managed SD-WAN service can overcome some of these challenges.
In the DTV realm, a typical digital set-top box contains one or more microprocessors for running the operating system, possibly Linux or Windows CE, and for parsing the MPEG transport stream. A set-top box also includes RAM, an MPEG decoder chip, and more chips for audio decoding and processing. The contents of a set-top box depend on the DTV standard used. European DVB-compliant set-top boxes contain parts to decode COFDM transmissions while ATSC-compliant set-top boxes contain parts to decode VSB transmissions. More sophisticated set-top boxes contain a hard drive for storing recorded television broadcasts, for downloaded software, and for other applications provided by your DTV service provider.
Digital television set-top boxes are used for satellite, cable, and terrestrial DTV services. They are especially important for terrestrial services because they guarantee viewers free television broadcasting. A set-top box price ranges from $100 for basic features to over $1,000 for a more sophisticated box. It is often leased as part of signing up for a service.
This was last updated in
April 2005