Definition
Network protocol
A network protocol is a set of established rules that dictates how to format, transmit and receive data so computer network devices -- from servers and routers to endpoints -- can communicate regardless of the differences in their underlying infrastructures, designs or standards.
To successfully send and receive information, devices on both sides of a communication exchange must accept and follow protocol conventions. Support for network protocols can be built into software, hardware or both.
Standardized network protocols provide a common language for network devices. Without them, computers wouldn't know how to engage with each other. As a result, except for specialty networks built around a specific architecture, few networks would be able to function, and the internet as we know it wouldn't exist. Virtually all network end users rely on network protocols for connectivity.
How protocols work
Network protocols break larger processes into discrete, narrowly defined functions and tasks across every level of the network. In the standard model known as Open Systems Interconnection (OSI), one or more network protocols govern activities at each layer in the telecommunication exchange.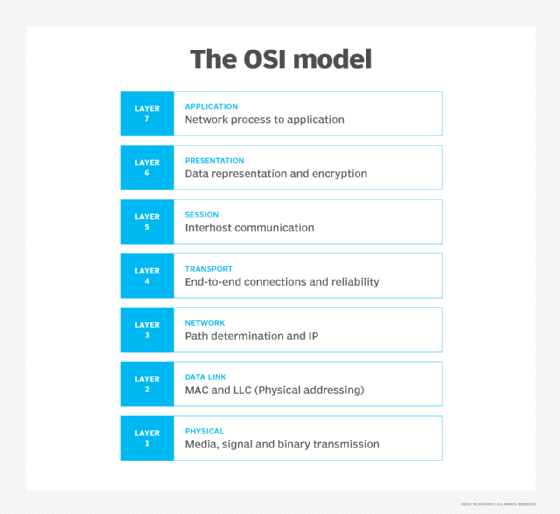 A set of cooperating network protocols is called a protocol suite. The TCP/IP suite includes numerous protocols across the data, network, transport and application layers, for example, working together to enable internet connectivity. These include:
Transmission Control Protocol (TCP), which uses a set of rules to exchange messages with other internet points at the information packet level;
Internet Protocol (IP), which uses a set of rules to send and receive messages at the internet address level; and
additional network protocols that include the Hypertext Transfer Protocol (HTTP) and File Transfer Protocol (FTP), each of which has defined sets of rules to exchange and display information.
Network protocols are often set forth in an industry standard -- developed, defined and published by groups such as the International Telecommunication Union, the Institute of Electrical and Electronics Engineers, the Internet Engineering Task Force, the International Organization for Standardization and the World Wide Web Consortium.
Types of protocols
Generally speaking, networks have three types of protocols -- communication, such as Ethernet; management, such as the Simple Network Management Protocol; and security, such as Secure Shell (SSH).
Falling into these three broad categories are thousands of network protocols that uniformly handle an extensive variety of defined tasks, including authentication, automation, correction, compression, error detection, file retrieval, file transfer, link aggregation, routing, semantics, synchronization and syntax.
Some network protocol examples include:
Address Resolution Protocol
Blocks Extensible Exchange Protocol
Border Gateway Protocol
Binary Synchronous Communications
Canonical Text Services
Domain name system
Enhanced Interior Gateway Routing Protocol
Internet Message Access Protocol
Gopher
Media access control
Network News Transfer Protocol
Post Office Protocol
Simple Mail Transfer Protocol
Terminal Network
Transmission Control Protocol
Universal Description, Discovery and Integration
User Datagram Protocol
X10
Continue Reading About Network protocol
Dig Deeper on Network protocols and standards