Definition
policy-based networking
Policy-based networking is the management of a network so that various kinds of traffic - data, voice, and video - get the priority of availability and bandwidth needed to serve the network's users effectively. With the convergence of data, telephone, and video traffic in the same network, companies will be challenged to manage traffic so that one kind of service doesn't preempt another kind. Using policy statements, network administrators can specify which kinds of service to give priority at what times of day on what parts of their Internet Protocol (IP)-based network. This kind of management is often known as Quality of Service () and is controlled using policy-based network software. Theoretically, a policy statement could be as natural as:

 "Provide the fastest forwarding for all voice traffic to Chicago between 9 am and 3pm."

In actuality, most policy-based networking software today requires a much more detailed and network-aware statement. Currently, the Internet Engineering Task Force (IETF) is working on a standard policy framework and related protocols. A typical policy-based network includes:
Content Continues Below

Download this free guide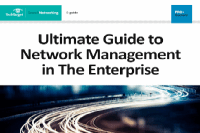 Download: Guide to Network Management in the Enterprise
Network management is a cornerstone of IT that helps ensure that enterprises run efficiently and effectively end to end. In this network management guide, we dig deep into functions, techniques, best practices, next-generation technology (like AI and machine learning), and more. Download now to help ensure that you have a resilient network for current and future demands.
In late 1999, the IETF standard for policy-based networking was in the draft stage. Among companies that currently provide proprietary policy-based networking software are Cabletron, Cisco, Nortel, and 3Com. These companies are aware of (and perhaps contributing to) the developing standard. Their products are likely to continue to evolve in support of the standard.
This was last updated in
April 2007
Continue Reading About policy-based networking