Peering is the arrangement of traffic exchange between Internet service providers (ISPs). Larger ISPs with their own backbone networks agree to allow traffic from other large ISPs in exchange for traffic on their backbones. They also exchange traffic with smaller ISPs so that they can reach regional end points. Essentially, this is how a number of individual network owners put the Internet together. To do this, network owners and access providers, the ISPs, work out agreements that describe the terms and conditions to which both are subject. Bilateral peering is an agreement between two parties. Multilateral peering is an agreement between more than two parties.
Peering requires the exchange and updating of router information between the peered ISPs, typically using the Border Gateway Protocol (BGP). Peering parties interconnect at network focal points such as the network access points (NAP) in the United States and at regional switching points. Initially, peering arrangements did not include an exchange of money. More recently, however, some larger ISPs have charged smaller ISPs for peering. Each major ISP generally develops a peering policy that states the terms and conditions under which it will peer with other networks for various types of traffic.
Content Continues Below

Download this free guide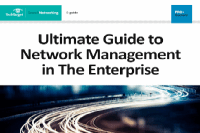 Download: Guide to Network Management in the Enterprise
Network management is a cornerstone of IT that helps ensure that enterprises run efficiently and effectively end to end. In this network management guide, we dig deep into functions, techniques, best practices, next-generation technology (like AI and machine learning), and more. Download now to help ensure that you have a resilient network for current and future demands.
Private peering is peering between parties that are bypassing part of the public backbone network through which most Internet traffic passes. In a regional area, some ISPs exchange local peering arrangements instead of or in addition to peering with a backbone ISP. In some cases, peering charges include transit charges, or the actual line access charge to the larger network. Properly speaking, peering is simply the agreement to interconnect and exchange routing information.
This was last updated in
July 2007
Continue Reading About peering
Dig Deeper on Telecommunication networking