Definition
network intelligence (NI)
Network Intelligence (NI) is the capacity of a network to examine data packets continuously and in real time. The NI process builds on deep packet inspection (DPI) by analyzing relationships and finding correlations in data from various sources of network traffic.
The NI process can quickly identify, examine, and correlate interactions involving Internet users, applications, and protocols. It can capture detailed information from hundreds of applications that cross mobile communications networks. The technology offers continuous visibility and analysis of user demand. Other advantages include:
Content Continues Below

Download this free guide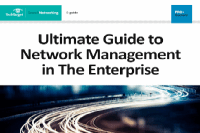 Download: Guide to Network Management in the Enterprise
Network management is a cornerstone of IT that helps ensure that enterprises run efficiently and effectively end to end. In this network management guide, we dig deep into functions, techniques, best practices, next-generation technology (like AI and machine learning), and more. Download now to help ensure that you have a resilient network for current and future demands.
Optimizing bandwidth management
Streamlining payment and invoice processes
Enhancing customer service
Maximizing profits or revenue
Facilitating detailed market research
Ensuring robust cybersecurity
In a cybersecurity setting, the NI process can identify how people contact each other, who the individuals or entities actually are, and where the sources and destinations of the communications lie in terms of IP addresses as well as geographical locations. Such information has grown increasingly important in recent years, both in the private sector (business) and in the public sector (government).
This was last updated in
March 2013
Continue Reading About network intelligence (NI)