Definition
modem lights (AA)
If you have an external modem, those flashing or steady lights tell you what's happening in the ongoing "handshaking" or interaction between a computer (with its Universal Asynchronous Receiver/Transmitter or UART microchip) and the modem. Or, more formally, to use the RS-232C serial standard terms, between the Data Terminal Equipment (DTE) interface and the Data Communication Equipment (DCE) interface.
Content Continues Below

Download this free guide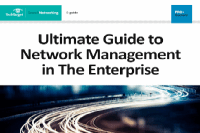 Download: Guide to Network Management in the Enterprise
Network management is a cornerstone of IT that helps ensure that enterprises run efficiently and effectively end to end. In this network management guide, we dig deep into functions, techniques, best practices, next-generation technology (like AI and machine learning), and more. Download now to help ensure that you have a resilient network for current and future demands.
| Modem Light | Meaning |
| --- | --- |
| AA (auto answer) | The modem is ready to respond to an incoming call (assuming a communication program is also ready to handle the call). Since this light can be off even when the modem is ready, it's not useful. |
| CD (carrier detect) | This simply indicates that the computer and the modem have recognized each other and that a carrier connection is established. If a second call is received, carrier detect may be temporarily interrupted and, depending on a number of factors, the first connection may be dropped or lost. |
| HS (high speed) | If on, indicates that the modem is ready to transfer data at its highest speed. Since this is often the case, this light is also not very useful. |
| MR (modem ready) | If on, indicates that your modem is ready to operate. |
| OH (off hook) | If on, tells you that the phone line is ready for use. |
| RD (receive data) | When flashing on, indicates that the modem is receiving data or signals from a remote computer. |
| SD (send data) | When flashing on, indicates that the modem is sending data or signals to another computer. |
| TR (terminal ready) | When on, indicates that your computer's communications program is active. If it's not on, either the program or your computer may not be working. |
This was last updated in
November 2010