Definition
location-based service (LBS)
A location-based service (LBS) is a software application for a IP-capable mobile device that requires knowledge about where the mobile device is located. Location-based services can be query-based and provide the end user with useful information such as "Where is the nearest ATM?" or they can be push-based and deliver coupons or other marketing information to customers who are in a specific geographical area.
An LBS requires five basic components: the service provider's software application, a mobile network to transmit data and requests for service, a content provider to supply the end user with geo-specific information, a positioning component (see GPS) and the end user's mobile device. By law, location-based services must be permission-based. That means that the end user must opt-in to the service in order to use it. In most cases, this means installing the LBS application and accepting a request to allow the service to know the device's location.
Content Continues Below

Download this free guide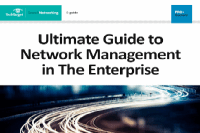 Download: Guide to Network Management in the Enterprise
Network management is a cornerstone of IT that helps ensure that enterprises run efficiently and effectively end to end. In this network management guide, we dig deep into functions, techniques, best practices, next-generation technology (like AI and machine learning), and more. Download now to help ensure that you have a resilient network for current and future demands.
Although location-based services have been around since 2000, they have mostly been used in commerce with a subscription-based business model. The release of Apple's 3G iPhone and Google's LBS-enabled Android operating system, however, has allowed developers to introduce millions of consumers to LBS. According to the 2008 fourth-quarter report from Nielsen Mobile, a division of The Nielsen Company, location-based services account for 58 percent of the total downloaded application revenue for mobile phones in North America.
Learn More
This short CNN video explores the pros and cons of LBS advertising.
Verizon's Field Force Manager provides a way for businesses to track the location of mobile workers and manage them remotely.
VentureBeat recommends Five location-based services to watch in 2009.
Om Malik explains how the iPhone is Boosting Demand For Location-Based Services.
This was last updated in
May 2009
Dig Deeper on Mobile and wireless network technology