Definition
jabber (in networks)
Also see Jabber, an open source program for instant messaging.
In networks, a jabber is any device that is handling electrical signals improperly, usually affecting the rest of the network. In an Ethernet network, devices compete for use of the line, attempting to send a signal and then retrying in the event that someone else tried at the same time. A jabber can look like a device that is always sending, effectively bringing the network to a halt. A jabber is usually the result of a bad network interface card (NIC). Occasionally, it can be caused by outside electrical interference.

Download this free guide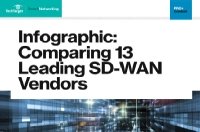 Free SD-WAN Infographic: Cisco vs. FatPipe vs. 11 More
Preparing for SD-WAN deployment requires substantial research to determine what your organization needs from your WAN. And the growing number of options on the market can make the decision-making process overwhelming. To help, dive into FAQs about SD-WAN deployment, and the important features to consider, such as security, cloud connectivity, pricing and more.