This term should not be confused with downlink.
1) In telecommunications generally, a transmission from an information server toward an end user is referred to as downstream and a transmission toward the server is referred to as upstream. In some transmission technologies, such as Digital Subscriber Line (DSL), the rates of data transfer upstream and downstream are not the same. In DSL, downstream data rates are higher since the kind of information that needs to get to the user (including still and video images and sound) requires a higher data rate. User responses back to the computer on the upstream path can be smaller since they are usually text-only.
2) In a token ring network, a computer station is downstream from any station through which the token on the ring has already passed.
3) In CATV, a downstream channel is one used to transmit signals from the headend to the user. An upstream channel is one in another frequency band that is used to send signals from the user back to the headend.
Content Continues Below

Download this free guide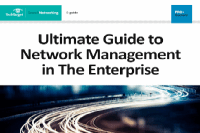 Download: Guide to Network Management in the Enterprise
Network management is a cornerstone of IT that helps ensure that enterprises run efficiently and effectively end to end. In this network management guide, we dig deep into functions, techniques, best practices, next-generation technology (like AI and machine learning), and more. Download now to help ensure that you have a resilient network for current and future demands.
This was last updated in
September 2005
Dig Deeper on Telecommunication networking