A daisy chain is an interconnection of computer devices, peripherals, or network nodes in series, one after another. It is the computer equivalent of a series electrical circuit. In personal computing, examples of "daisy-chainable" interfaces include Small Computer System Interface (SCSI) and FireWire, which allow computers to communicate with peripheral hardware such as disk drives, tape drives, CD-ROM drives, printers, and scanners faster and more flexibly than previous interfaces.
The main advantage of the daisy chain is its simplicity. Another advantage is scalability. The user can add more nodes anywhere along the chain, up to a certain maximum (16 in SCSI-2 or SCSI-3, for example). A daisy-chain network can be long in terms of the distance from one end to the other, but is not well suited to situations where nodes must be scattered all over a geographic region. In such a case, the cables must zig-zag around, and the overall length of the network can become huge compared with the actual distances between the nodes. This can cause the network to operate slowly for users near opposite ends of the chain.
Content Continues Below

Download this free guide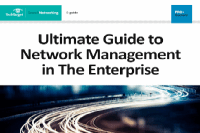 Download: Guide to Network Management in the Enterprise
Network management is a cornerstone of IT that helps ensure that enterprises run efficiently and effectively end to end. In this network management guide, we dig deep into functions, techniques, best practices, next-generation technology (like AI and machine learning), and more. Download now to help ensure that you have a resilient network for current and future demands.
Daisy chain is also the name of a recent virus hoax.
This was last updated in
August 2005
Continue Reading About daisy chain