Definition
coarse wavelength division multiplexing (CWDM)
Coarse wavelength division multiplexing (CWDM) is a method of combining multiple signals on laser beams at various wavelengths for transmission along fiber optic cables, such that the number of channels is fewer than in dense wavelength division multiplexing (DWDM) but more than in standard wavelength division multiplexing (WDM).
CWDM systems have channels at wavelengths spaced 20 nanometers (nm) apart, compared with 0.4 nm spacing for DWDM. This allows the use of low-cost, uncooled lasers for CWDM. In a typical CWDM system, laser emissions occur on eight channels at eight defined wavelengths: 1610 nm, 1590 nm, 1570 nm, 1550 nm, 1530 nm, 1510 nm, 1490 nm, and 1470 nm. But up to 18 different channels are allowed, with wavelengths ranging down to 1270 nm.
Content Continues Below

Download this free guide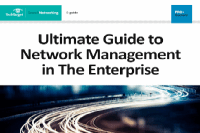 Download: Guide to Network Management in the Enterprise
Network management is a cornerstone of IT that helps ensure that enterprises run efficiently and effectively end to end. In this network management guide, we dig deep into functions, techniques, best practices, next-generation technology (like AI and machine learning), and more. Download now to help ensure that you have a resilient network for current and future demands.
The energy from the lasers in a CWDM system is spread out over a larger range of wavelengths than is the energy from the lasers in a DWDM system. The tolerance (extent of wavelength imprecision or variability) in a CWDM laser is up to ± 3 nm, whereas in a DWDM laser the tolerance is much tighter. Because of the use of lasers with lower precision, a CWDM system is less expensive and consumes less power than a DWDM system. However, the maximum realizable distance between nodes is smaller with CWDM.
This was last updated in
September 2005
Continue Reading About coarse wavelength division multiplexing (CWDM)
Dig Deeper on Telecommunication networking