Definition
Audiobook: Intrusion Prevention Fundamentals

Intrusion Prevention Fundamentals:
An introduction to network attack mitigation with IPS

*Note: The files in this WhatIs.com audio book series are quite large and may take as long as five minutes to download.

What is an intrusion prevention system?
A n intrusion prevention system (IPS) is a security protection device or application that acts as a Layer 2 forwarding device to protect network devices from attack.


Content Continues Below

Download this free guide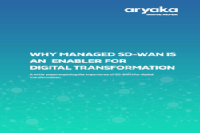 How SD-WAN Can Help Enable Digital Transformation
When embarking on digital transformation initiatives, its important to factor in WAN design to avoid poor application performance and customer dissatisfaction. In this white paper, you'll explore the drawbacks of traditional WAN architectures and how a managed SD-WAN service can overcome some of these challenges.
"Whether you are evaluating IPS technologies or want to learn how to deploy and manage IPS in your network, the book Intrusion Prevention Fundamentals by Earl Carter and Jonathan Hogue is an invaluable resource for anyone who needs to know how IPS technology works, what problems it can or cannot solve, how it is deployed and where it fits in the larger security marketplace." CiscoPress.com.


Cisco Press, Ciscopress.com, has been kind enough to allow us to podcast the first chapter of this book. For your convenience, we've broken the chapter into four downloads of about 15 minutes each. We've also provided you with a glossary from WhatIs.com to go with each section.





Part One: Evolution of Computer Security Threats


Glossary: network, host, firewall, mainframe, dumb terminal, client/server, peer-to-peer, node, Internet, FTP, VoIP, SMTP, instant messaging, TCP/IP, UDP, packet, wireless, mobile computing, PDA




Part Two: Target Value, Attack Characteristics and Attack Delivery Mechanisms


Glossary: zombie, modem, floppy disk, USB, war dialer, DSL, obfuscation, drive-by spamming, wireless LAN, denial of service, encryption, decryption




Part Three: Attack Examples from the Real World


Glossary: attack vector, worm, virus, Trojan, executable, Chernobyl virus, BIOS, ILOVEYOU virus, social engineering, file sharing, server, SQL, Slammer, database,buffer overflow




Part Four: Evolution of Attack Mitigation


Glossary: antivirus software, personal firewall, port, access log, OSI Reference Model Illustrated, layer 2, compliance, port 80, HTTP

-------------------------------------------------------------------------------------------------
About the Authors:


Earl Carter is a consulting engineer and member of the Security Technologies Assessment Team (STAT) for Cisco Systems.
Download a chapter from Earl Carter's book Intrusion Detection Systems.


Jonathan Hogue, CISSP, is a technical marketing engineer in the Cisco security business unit where his primary focus is the Cisco Security Agent.



This was last updated in
June 2007
Dig Deeper on Network Security Best Practices and Products