Definition
URL (Uniform Resource Locator)
A URL (Uniform Resource Locator) is a unique identifier used to locate a resource on the internet. It is also referred to as a web address. URLs consist of multiple parts -- including a protocol and domain name -- that tell a web browser how and where to retrieve a resource.
End users use URLs by typing them directly into the address bar of a browser or by clicking a hyperlink found on a webpage, bookmark list, in an email or from another application.
A URL is the most common type of Uniform Resource Identifier (URI). URIs are strings of characters used to identify a resource over a network. URLs are essential to navigating the internet.
URL structure
The URL contains the name of the protocol needed to access a resource, as well as a resource name. The first part of a URL identifies what protocol to use as the primary access medium. The second part identifies the IP address or domain name -- and possibly subdomain -- where the resource is located.
URL protocols include HTTP (Hypertext Transfer Protocol) and HTTPS (HTTP Secure) for web resources, mailto for email addresses, ftp for files on a File Transfer Protocol (FTP) server, and telnet for a session to access remote computers. Most URL protocols are followed by a colon and two forward slashes; mailto is followed only by a colon.
Optionally, after the domain, a URL can also specify:
URL examples
Here are a few examples of URLs and what their separate parts look like.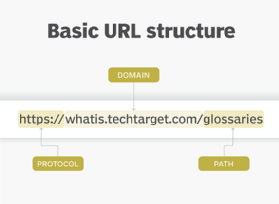 This example specifies:
the resource is to be retrieved using the HTTPS protocol -- which powers the web -- via a web browser;
the resource is reached through the domain name system (DNS) name;
the domain name -- or resource -- is whatis.techtarget.com; and
the path is /glossaries.
https://en.wikipedia.org/wiki/Internet#History indicates:
the HTTPS protocol is used; and
the URL will retrieve the webpage at the point marked with the named anchor History.
mailto:president@whitehouse.gov initiates a new email addressed to the mailbox president in the domain whitehouse.gov.
Finally, this example -- ftp://www.somecompany.com/whitepapers/widgets.ps -- specifies the use of the FTP protocol to download a file.
HTTP vs. HTTPs
Both HTTP and HTTPS are used to retrieve data from a web server to view content in a browser. The difference between them is that HTTPS uses a Secure Sockets Layer (SSL) certificate to encrypt the connection between the end user and the server.
HTTPS is vital to protecting sensitive information -- such as passwords, credit card numbers and identity data -- from unauthorized access.
HTTPS uses TCP/IP port 443 by default, whereas HTTP uses port 80.
Continue Reading About URL (Uniform Resource Locator)
Dig Deeper on Network protocols and standards