Definition
Regional Internet Registry (RIR)
A Regional Internet Registry (RIR) is a not-for-profit organization that oversees Internet Protocol (IP) address space (IPv4 and IPv6) and the Autonomous System (AS) numbers within a specific geographical region. There are five regional RIRs across the globe: ARIN, RIPE, APNIC, LACNIC and AfriNIC. Together, they are known as the Number Resource Organization (NRO).
Content Continues Below

Download this free guide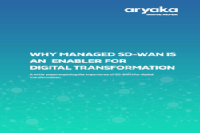 How SD-WAN Can Help Enable Digital Transformation
When embarking on digital transformation initiatives, its important to factor in WAN design to avoid poor application performance and customer dissatisfaction. In this white paper, you'll explore the drawbacks of traditional WAN architectures and how a managed SD-WAN service can overcome some of these challenges.
The Regional Internet Registries were were established by Internet service providers (ISPs) during the 1990s in response to the rapid growth of the Internet. They were recognized in RFC 2050 as a way to build consensus and establish a set of consistent global policies. Each individual RIR is tasked with creating local policy for managing the finite number of identity elements (unique addresses and numbers) that routers, switches and computers use on the Internet by:
Providing a public registry documenting address space allocations and assignments.
Assisting in the maintenance of Internet routing tables.
Supporting Classless Inter-Domain Routing (CIDR) techniques.
Preventing instabilities due to market distortions such as stockpiling or other forms of manipulation.
This was last updated in
February 2010
Dig Deeper on Network Infrastructure