Definition
Primary Rate Interface (PRI)
In the Integrated Services Digital Network (ISDN), there are two levels of service: the Basic Rate Interface (BRI), intended for the home and small enterprise, and the Primary Rate Interface (PRI), for larger users. Both rates include a number of B-channels and a D-channel. Each B-channel carries data, voice, and other services. The D-channel carries control and signaling information.
The Basic Rate Interface consists of two 64 Kbps B-channels and one 16 Kbps D-channel. Thus, a Basic Rate Interface user can have up to 128 Kbps service. The Primary Rate Interface consists of 23 B-channels and one 64 Kpbs D-channel using a T-1 line or 30 B-channels and 1 D-channel using an E1 line. Thus, a Primary Rate Interface user on a T-1 line can have up to 1.544 Mbps service or up to 2.048 Mbps service on an E1 line. PRI uses the Q.931 protocol over the D-channel.
Content Continues Below

Download this free guide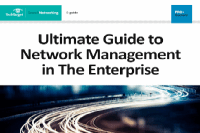 Download: Guide to Network Management in the Enterprise
Network management is a cornerstone of IT that helps ensure that enterprises run efficiently and effectively end to end. In this network management guide, we dig deep into functions, techniques, best practices, next-generation technology (like AI and machine learning), and more. Download now to help ensure that you have a resilient network for current and future demands.
The Primary Rate Interface channels are carried on a T-carrier system line (in the U.S., Canada, and Japan) or an E-carrier line (in other countries) and are typically used by medium to large enterprises. The 23 (or 30) B-channels can be used flexibly and reassigned when necessary to meet special needs such as videoconferences. The Primary Rate user is hooked up directly to the telephone company central office.
For more information, see ISDN. To compare ISDN data rates with other technologies, see The speed of....
This was last updated in
September 2005
Continue Reading About Primary Rate Interface (PRI)
Dig Deeper on Telecommunication networking