Definition
Port Address Translation (PAT)
Port Address Translation (PAT), is an extension to network address translation (NAT) that permits multiple devices on a local area network (LAN) to be mapped to a single public IP address. The goal of PAT is to conserve IP addresses.
Most home networks use PAT. In such a scenario, the Internet Service Provider (ISP) assigns a single IP address to the home network's router. When Computer X logs on the Internet, the router assigns the client a port number, which is appended to the internal IP address. This, in effect, gives Computer X a unique address. If Computer Z logs on the Internet at the same time, the router assigns it the same local IP address with a different port number. Although both computers are sharing the same public IP address and accessing the Internet at the same time, the router knows exactly which computer to send specific packets to because each computer has a unique internal address.
Content Continues Below

Download this free guide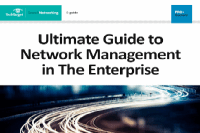 Download: Guide to Network Management in the Enterprise
Network management is a cornerstone of IT that helps ensure that enterprises run efficiently and effectively end to end. In this network management guide, we dig deep into functions, techniques, best practices, next-generation technology (like AI and machine learning), and more. Download now to help ensure that you have a resilient network for current and future demands.

Port Address Tranlation is also called porting, port overloading, port-level multiplexed NAT and single address NAT.
This was last updated in
November 2009