Definition
Media Gateway Control Protocol (MGCP)
Media Gateway Control Protocol (MGCP), also known as H.248 and Megaco, is a standard protocol for handling the signaling and session management needed during a multimedia conference. The protocol defines a means of communication between a media gateway, which converts data from the format required for a circuit-switched network to that required for a packet-switched network and the media gateway controller. MGCP can be used to set up, maintain, and terminate calls between multiple endpoints. Megaco and H.248 refer to an enhanced version of MGCP.

Download this free guide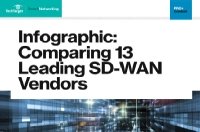 Free SD-WAN Infographic: Cisco vs. FatPipe vs. 11 More
Preparing for SD-WAN deployment requires substantial research to determine what your organization needs from your WAN. And the growing number of options on the market can make the decision-making process overwhelming. To help, dive into FAQs about SD-WAN deployment, and the important features to consider, such as security, cloud connectivity, pricing and more.
The standard is endorsed by the Internet Engineering Task Force (IETF) as Megaco (RFC 3015) and by the Telecommunication Standardization Sector of the International Telecommunications Union (ITU-T) as Recommendation H.248. H.323, an earlier UTI-T protocol, was used for local area networks (LANs), but was not capable of scaling to larger public networks. The MCGP and Megaco/H.248 model removes the signaling control from the gateway and puts it in a media gateway controller, which can then control multiple gateways.
MGCP was itself created from two other protocols, Internet Protocol Device Control (IPDC) and Simple Gateway Control Protocol (SGCP). Defined in RFC 2705, the MGCP specifies a protocol at the Application layer level that uses a master-slave model, in which the media gateway controller is the master. MGCP makes it possible for the controller to determine the location of each communication endpoint and its media capabilities so that a level of service can be chosen that will be possible for all participants. The later Megaco/H.248 version of MGCP supports more ports per gateway, as well as multiple gateways, and support for time-division multiplexing (TDM) and asynchronous transfer mode (ATM) communication.
This was last updated in
April 2007
Continue Reading About Media Gateway Control Protocol (MGCP)