Definition
LANDesk Client Manager (LDCM)
LDCM (LANDesk Client Manager) is a software product from Intel that lets a system administrator for a local area network () see the configurations and monitor the status of personal computer on the LAN. LDCM is an implementation of the Desktop Management Interface (DMI) standard established by the Desktop Management Task Force, an industry group. To take advantage of DMI, product components must provide a Management Information Format (MIF) file.

Download this free guide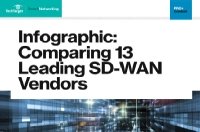 Free SD-WAN Infographic: Cisco vs. FatPipe vs. 11 More
Preparing for SD-WAN deployment requires substantial research to determine what your organization needs from your WAN. And the growing number of options on the market can make the decision-making process overwhelming. To help, dive into FAQs about SD-WAN deployment, and the important features to consider, such as security, cloud connectivity, pricing and more.
Using LDCM, a LAN administrator can be notified automatically when a workstation is nearing problem status. LDCM's "PC health monitoring" can notify the administrator of the status of low memory, any recoverable parity error, any boot virus that may be present, the motherboard and central processing unit temperatures, and other status information. LDCM also allows an inventory to be kept of all software and hardware characteristics of all workstations.
The first releases of LDCM have been pre-installed on PCs by original equipment manufacturers. LDCM requires a BIOS that supports System Management BIOS Specification Version 2.0.
Continue Reading About LANDesk Client Manager (LDCM)