Definition
GVRP (GARP VLAN Registration Protocol or Generic VLAN Registration Protocol)
GVRP (GARP VLAN Registration Protocol or Generic VLAN Registration Protocol) is a protocol that facilitates control of virtual local area networks (VLANs) within a larger network . GVRP conforms to the IEEE 802.1Q specification, which defines a method of tagging frames with VLAN configuration data. This allows network devices to dynamically exchange VLAN configuration information with other devices.

Download this free guide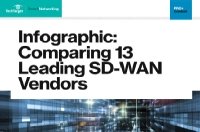 Free SD-WAN Infographic: Cisco vs. FatPipe vs. 11 More
Preparing for SD-WAN deployment requires substantial research to determine what your organization needs from your WAN. And the growing number of options on the market can make the decision-making process overwhelming. To help, dive into FAQs about SD-WAN deployment, and the important features to consider, such as security, cloud connectivity, pricing and more.
GVRP is based on GARP (Generic Attribute Registration Protocol), a protocol that defines procedures by which end stations and switches in a local area network (LAN) can register and de-register attributes, such as identifiers or addresses, with each other. Every end station and switch thus has a current record of all the other end stations and switches that can be reached. GVRP, like GARP, eliminates unnecessary network traffic by preventing attempts to transmit information to unregistered users. In addition, it is necessary to manually configure only one switch and all the other switches will be configured accordingly.
This was last updated in
June 2007
Continue Reading About GVRP (GARP VLAN Registration Protocol or Generic VLAN Registration Protocol)
Dig Deeper on Network protocols and standards