Definition
GARP (Generic Attribute Registration Protocol)
GARP (Generic Attribute Registration Protocol) is a local area network (LAN) protocol that defines procedures by which end stations and switches can register and de-register attributes, such as network identifiers or addresses, with each other. Every end station and switch thus has a record, or list, of all the other end stations and switches that can be reached at any given time.

Download this free guide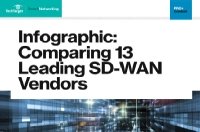 Free SD-WAN Infographic: Cisco vs. FatPipe vs. 11 More
Preparing for SD-WAN deployment requires substantial research to determine what your organization needs from your WAN. And the growing number of options on the market can make the decision-making process overwhelming. To help, dive into FAQs about SD-WAN deployment, and the important features to consider, such as security, cloud connectivity, pricing and more.
When an attribute for an end station or switch is registered or de-registered according to GARP, the set of reachable end stations and switches, called participants, is modified according to specific rules. The defined set of participants at any given time, along with their attributes, is a subset of the network topology called the reachability tree. Data frames are propagated only to registered end stations. This prevents attempts to send data to end stations that are not reachable.
GARP was previously called Group Address Registration Protocol.
>> Stay up to date by receiving the latest IT term daily. Simply check "Word of the Day" to register.
Continue Reading About GARP (Generic Attribute Registration Protocol)