Definition
DSLAM (Digital Subscriber Line Access Multiplexer)
A DSLAM (Digital Subscriber Line Access Multiplexer) is a network device, usually at a telephone company central office, that receives signals from multiple customer Digital Subscriber Line (DSL) connections and puts the signals on a high-speed backbone line using multiplexing techniques. Depending on the product, DSLAM multiplexers connect DSL lines with some combination of asynchronous transfer mode (ATM), frame relay, or Internet Protocol networks. DSLAM enables a phone company to offer business or homes users the fastest phone line technology (DSL) with the fastest backbone network technology (ATM).

Download this free guide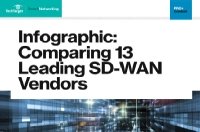 Free SD-WAN Infographic: Cisco vs. FatPipe vs. 11 More
Preparing for SD-WAN deployment requires substantial research to determine what your organization needs from your WAN. And the growing number of options on the market can make the decision-making process overwhelming. To help, dive into FAQs about SD-WAN deployment, and the important features to consider, such as security, cloud connectivity, pricing and more.
This was last updated in
July 2007
Dig Deeper on Telecommunication networking