Definition
Bearer Independent Call Control (BICC)
Bearer Independent Call Control (BICC) is a signaling protocol based on N-ISUP that is used to support narrowband ISDN service over a broadband backbone network without interfering with interfaces to the existing network and end-to-end services. Specified by the International Telecommunications Union - Telecommunications Standardization Sector (ITU-T) in recommendation Q.1901, BICC was designed to be fully compatible with existing networks and any system capable of carrying voice messages. BICC supports narrowband ISDN services independently of bearer and signaling message transport technology. ISUP messages carry both call control and bearer control information, identifying the physical bearer circuit by a Circuit Identification Code (CIC). However, CIC is specific to time-division multiplexed (TDM) networks. BICC was developed to be interoperable with any type of bearer, such as those based on asynchronous transfer mode (ATM) and Internet Protocol (IP) technologies, as well as TDM. BICC separates call control and bearer connection control, transporting BICC signaling independently of bearer control signaling. The actual bearer transport used is transparent to the BICC signaling protocol - BICC has no knowledge of the specific bearer technology, which is referenced in the binding information.
The ITU announced the completion of the second set of BICC protocols (BICC Capability Set 2, or CS 2) in July 2001; these are expected to help move networks from the current model - which is based on public-switching systems - to a server-based model. The BICC deployment architecture comprises a server, proxy, and a media gateway to support the current services over networks based on circuit-switched, ATM, and Internet Protocol (IP) technologies, including third-generation wireless. According to ITU spokesman Yukio Hiramatsu, the completion of the BICC protocols is an historic step toward broadband multimedia networks, because it will enable the seamless migration of circuit-switched TDM networks to high-capacity broadband multimedia networks. The Third Generation Partnership Project (3GPP) has included BICC CS 2 in the Universal Mobile Telecommunications Service (UMTS) release 4. Among the future ITU-T plans for BICC are the inclusion of more advanced service support and more utilization of proxies, such as the Session Initiation Protocol (SIP) proxy.
Content Continues Below

Download this free guide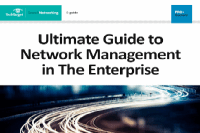 Download: Guide to Network Management in the Enterprise
Network management is a cornerstone of IT that helps ensure that enterprises run efficiently and effectively end to end. In this network management guide, we dig deep into functions, techniques, best practices, next-generation technology (like AI and machine learning), and more. Download now to help ensure that you have a resilient network for current and future demands.
This was last updated in
April 2007
Continue Reading About Bearer Independent Call Control (BICC)
Dig Deeper on Network protocols and standards