Definition
BOC (Bell operating company)
BOC (Bell operating company) is a term for any of the 22 original companies (or their successors) that were created when AT&T was broken up in 1983 and given the right to provide local telephone service in a given geographic area. The companies had previously existed as subsidiaries of AT&T and were called the "Bell System." The purpose of the breakup was to create competition at both the local and long-distance service levels. BOCs compete with other, independent companies to sell local phone service. In certain areas, long-distance companies, including AT&T, can now compete for local service. Collectively, companies offering local phone service are referred to legally as local exchange carriers (local exchange carrier).
BOCs are not allowed to manufacture equipment and were initially not allowed to provide long-distance service. The Telecommunications Act of 1996 now permits them to engage in long-distance business under certain circumstances. As of 1996, the BOCs consisted of original and successor companies to:
Content Continues Below

Download this free guide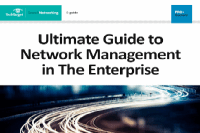 Download: Guide to Network Management in the Enterprise
Network management is a cornerstone of IT that helps ensure that enterprises run efficiently and effectively end to end. In this network management guide, we dig deep into functions, techniques, best practices, next-generation technology (like AI and machine learning), and more. Download now to help ensure that you have a resilient network for current and future demands.
Bell Telephone Company of Nevada, Illinois Bell, Indiana Bell, Michigan Bell, New England Telephone and Telegraph Company, New Jersey Bell, New York Telephone Company, U S West Communications Company, South Central Bell, Southern Bell, Southwestern Bell, Bell Telephone of Pennsylvania, The Chesapeake and Potomac Telephone Company, The Chesapeake and Potomac Telephone Company of Maryland, The Chesapeake and Potomac Telephone Company of Virginia, The Diamond State Telephone Company, The Ohio Bell Telephone Company, The Pacific Telephone and Telegraph Company, and the Wisconsin Telephone Company.
This was last updated in
April 2005
Dig Deeper on Telecommunication networking