Definition
ADSL (Asymmetric Digital Subscriber Line)
Also see Fast Guide to DSL.
ADSL (Asymmetric Digital Subscriber Line) is a technology for transmitting digital information at a high bandwidth on existing phone lines to homes and businesses. Unlike regular dialup phone service, ADSL provides continously-available, "always on" connection. ADSL is asymmetric in that it uses most of the channel to transmit downstream to the user and only a small part to receive information from the user. ADSL simultaneously accommodates analog (voice) information on the same line. ADSL is generally offered at downstream data rates from 512 Kbps to about 6 Mbps. A form of ADSL, known as Universal ADSL or G.lite, has been approved as a standard by the ITU-TS.
ADSL was specifically designed to exploit the one-way nature of most multimedia communication in which large amounts of information flow toward the user and only a small amount of interactive control information is returned. Several experiments with ADSL to real users began in 1996. In 1998, wide-scale installations began in several parts of the U.S. In 2000 and beyond, ADSL and other forms of DSL are expected to become generally available in urban areas. With ADSL (and other forms of DSL), telephone companies are competing with cable companies and their cable modem services.
Content Continues Below

Download this free guide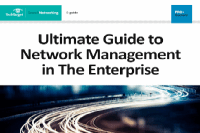 Download: Guide to Network Management in the Enterprise
Network management is a cornerstone of IT that helps ensure that enterprises run efficiently and effectively end to end. In this network management guide, we dig deep into functions, techniques, best practices, next-generation technology (like AI and machine learning), and more. Download now to help ensure that you have a resilient network for current and future demands.
This was last updated in
November 2006
Continue Reading About ADSL (Asymmetric Digital Subscriber Line)
Dig Deeper on Network protocols and standards