 BACKGROUND IMAGE: iSTOCK/GETTY IMAGES
Navigating the network ADC buying process
Editor's note
Application delivery controllers, or ADCs, are the Swiss army knives of today's networks. Deployed between applications and users, these physical or virtual devices intercept session traffic and enable a range of application, performance and security functions.
ADCs essentially serve as a proxy, making a pool of back-end application servers look like a single application server to users. Network ADC devices can block attacks, intercept and inspect encrypted traffic, and prevent unauthorized access to applications.
Today, in addition to directing internet traffic, ADC devices are also deployed on corporate intranets and inside cloud data centers connecting LAN-based clients to LAN-based application servers. Although most ADC devices manage traffic on the same LAN, other application delivery controllers provide global functions, where traffic is transparently redirected across the WAN to other remote application servers.
It's crucial to carefully evaluate ADCs and their capabilities when assessing their role in your organization's network. But before you invest in a network ADC, there are several key questions to ask. For example, what is the size of your network? On what platform will you be deploying your ADC? Do you need a product with built-in security? What about Layer 7 functionality?
This buyer's guide is designed to answer these questions and help take the guesswork out of buying an application delivery controller. By examining the features and functionalities each ADC offers and matching those to your requirements, you can select the ADC product that will best meet the needs of your network.
A roundup of these ADC devices provides an in-depth look at the features and functionality offered. Use this information and the accompanying product chart to compare the specific products to find the right application delivery controller for your organization.
Based on extensive research into the ADC market, TechTarget editors focused on those companies that offer the broadest selection of network ADC features -- both through appliances and through software only. Our research included data from TechTarget surveys, interviews and reports from other respected research firms, including Gartner.
1

Tips for vetting ADC vendors

Before you begin examining network ADC products, review this list of considerations to identify which items are the most important to your organization.
2

Choosing an ADC device

By examining what features and functionality each network ADC offers and matching those to your requirements, you can select the best ADC product for your network.

Download this free guide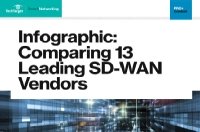 Free SD-WAN Infographic: Cisco vs. FatPipe vs. 11 More
Preparing for SD-WAN deployment requires substantial research to determine what your organization needs from your WAN. And the growing number of options on the market can make the decision-making process overwhelming. To help, dive into FAQs about SD-WAN deployment, and the important features to consider, such as security, cloud connectivity, pricing and more.
3

What the leading ADC vendors offer

In addition to load balancing, the leading ADC devices offer features such as application acceleration, a built-in web application firewall and integrated security protection.