 BACKGROUND IMAGE: iSTOCK/GETTY IMAGES
Consider SD-WAN products to help simplify network management
Editor's note
Many organizations with traditional WAN architectures have insufficient bandwidth and can no longer cost-effectively provide reliable and secure high-speed connections to their data center or cloud-based applications. These enterprises typically deploy dedicated links, like MPLS, from network service providers, but the rapid growth in WAN traffic has prompted these organizations to find less expensive options.
To help improve traffic handling and application performance, organizations are turning to software-defined WAN. SD-WAN products can improve bandwidth, help prioritize traffic for critical applications and offer significant operational benefits. SD-WAN uses software to combine multiple network sites into one logical network, and it hides the physical network with a virtual network overlay.
An organization's requirements for SD-WAN depend on its size, location and vertical industry. Organizations with a large number of remote employees and numerous branch offices -- such as financial services, restaurants, retail, healthcare, manufacturing and government -- can undergo major SD-WAN deployments.
Before selecting an SD-WAN vendor, it's crucial to carefully evaluate your branch networking requirements and determine what problem you're trying to solve. This information can help you make a compelling business case to management. For example, is your organization experiencing poor WAN connection reliability with a specific application? Or, does your network face a more general issue with WAN bandwidth, such as outages that affect the networking group's productivity?
This buyer's guide is designed to help reduce the guesswork of selecting an SD-WAN approach. By examining the features and functions of leading SD-WAN products and matching those to your organization's requirements, you can choose the offering that will best suit your needs.
To help you create a short list of SD-WAN products, we've provided a roundup of 10 notable SD-WAN providers. The roundup offers an in-depth look at the functionality of these tools, how they're sold or delivered, and whether they offer enhanced support or advanced security features.
1

Evaluate your specific needs before selecting an SD-WAN

Before you evaluate SD-WAN products, it's important to first identify your current branch network requirements.
2

Examine what leading SD-WAN products offer

Each organization has individual business needs and network requirements, so each will have varying demands of its SD-WAN product. Learn what leading SD-WAN vendors provide to help organizations find SD-WAN products that align with those needs.

Download this free guide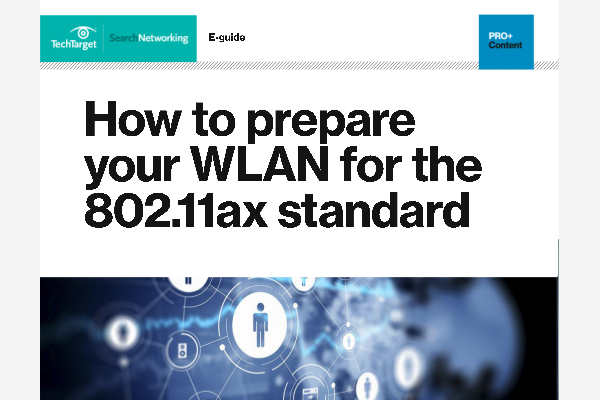 How to Prepare your WLAN for the 802.11ax Standard
Currently planned for release in 2019, the 802.11ax standard offers 10 Gbps speeds –up to 40% faster than Wave 2 802.11ac. Find out how this will be a game changer, and why anyone with skin in the game should start educating themselves now.
3

A roundup of leading SD-WAN products and services

Here, we profile the products and services of 10 leading SD-WAN vendors and compare the main features and functionalities of their offerings.