News
Stay informed about the latest enterprise technology news and product updates.
Vint Cerf wows 'em at SHARKFEST
Earlier this week, I wrote a post about the SHARKFEST conference, a small and focused networking event that features some very high-powered speakers, namely Internet pioneer Vint Cerf and protocol analysis expert Laura Chappell.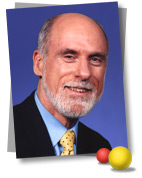 Tim O'Neill has posted a video and uploaded the slides of Vint Cerf's presentation over at LoveMyTool, if you'd like to check them out. Vint's talk covered Internet usage and growth in the 21st century so far, how technology and protocols are changing, what the drivers are behind that change, and how standards groups are working on adapting technology to meet future demands.

Laura Chappell has quite an extensive recap of SHARKFEST posted on her Inside Laura's Lab blog. If you can make it through her entire post, you'll truly feel like you were in attendance! Also stay tuned to SearchNetworking.com for more from Laura; she'll be joining us soon for a virtual trade show on network monitoring. For now, click over to her latest animated article at Novell Connection Magazine. This one explains everything you need to know about TCP connection loss.
(Updated 4/8/08.)