News
Stay informed about the latest enterprise technology news and product updates.
The gloves come off at Interop 2011: Will Cisco get pummeled?
Interop 2011 promises to be the most interesting networking conference in a long time. The gloom of the recession is lifting, attendees will need to fight off the cloud and as-a-service vendors with a stick, and (dare we even think it?) the monopolistic death grip that Cisco has had on the hardware market may be loosening.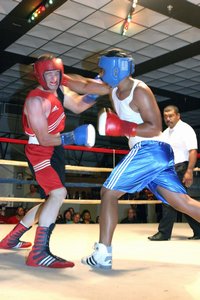 When I spoke to Jim Metzler about the hot networking trends to look out for at the show, he concluded our conversation with some market insight: "This is a critical Interop. The fact that Cisco is no longer BFF with HP and IBM is kind of a cloud that overhangs a lot of what's going on."
No doubt there is a pall cast over Cisco and its major partners as they gear up for Interop and strategize to keep their top dog status. Logic, and a memo from John Chambers himself, would dictate that Cisco will focus more on core routing and switching, as well as winning back network engineers who make up a significant percentage of the Interop attendee list. Most Cisco users and spectators, yours truly included, are willing to cut Cisco some slack despite recent problems. Any company with expectations as high as Cisco's is bound to make some missteps, especially during an extended recession. And, hey, I like my Flip, so I can forgive and forget. But early indicators suggest the company may not be seizing the opportunity to fully redeem itself, instead allowing the competition to creep in and steal customers and market share.
So we've all had our eye on Cisco, and in the past month the company has made some interesting moves, some that seem extremely smart, and some that are just insulting to our intelligence.
Fast forward to today. This morning at Interop, Cisco CIO Rebecca Jacoby has a primo keynote slot and a chance to boost her company's image with the folks who buy the bread and butter of its existence, networking hardware. The captive audience pensively anticipates her arrival onstage to talk about those boxes they love….Oh, wait, she isn't talking about switches and routers. She's talking about IT services, lots of business productivity statistics, and about someone who had a heart attack but can Facebook about it in the hospital. Huh?
Luckily this is not my first confounding keynote, so I can connect the dots here. Yes, IT shops are building private clouds that rely on networks. So networks will be a delivery platform for services, and the networking team will be responsible for meeting certain requirements for applications and service performance. And mobility and access control are important. But we have been hearing this same reasoning for years. What networking pros really want to know is how to build and troubleshoot the nuts and bolts of the network underneath. I can understand conceptually why Cisco might have chosen to talk about this, but I seriously doubt a vague romp through the land of service delivery will help to restore faith in the biggest network equipment maker in the world. Enough vendors are on the cloud/services bandwagon — can't we get back to networking?
Not only may the Cisco keynote miss the mark on rallying the troops but it's possible that the company's show floor booth will linger under a haze of gloom. Yet I predict quite another atmosphere in the booths of HP, Juniper, Brocade, and Arista, to name a few. These companies — many sporting former Cisco employees at very high levels –could capitalize even more than they already have on any weakness Cisco reveals.
HP has gained significant market share, partly due to its acquisition of 3Com, but no one can dispute its aggressive attack on the networking market. The company yesterday announced its HP Flex Network Architecture, which includes — you guessed it — actual core switches aimed at flattening the campus LAN. And Juniper's QFabric is being recognized as a finalist in the Best of Interop awards, as is Alcatel-Lucent for its data center switching fabric. Brocade also announced a new offering (some real live hardware components included) for building data center fabric last week.
The networking marketplace is exciting once again. Cisco may have fumbled the ball, but we should be grateful because that has opened up the field for more innovation and competition, eventually resulting in better technology and products. Attendees at Interop will be able to see the vendors duking it out live for a few days, and we'll be following it on our Interop 2011 special coverage page.