News
Stay informed about the latest enterprise technology news and product updates.
Perfect storm on its way for networking pros?
I flew back from Interop this morning, and my head is swimming from all there was to see and try to comprehend. One thing, however, is crystal clear: Today, networking is about a lot more than the network. When the hot topics at networking's biggest conference are virtualization, application performance and green computing, it's probably wise to start looking into new realms of technology, even if your current position doesn't require it. Thing are bound to change quickly, and you may be in for more than you bargained for.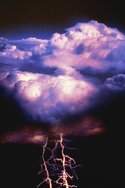 Dr. Jim Metzler warned attendees during the "Managing and Controlling Application Performance" session on Tuesday that in the next five years the combination of application acceleration, virtualization, and service oriented architecture will create a perfect storm. He said the resulting complexity of technologies may be something we are unable to manage. That's quite an unsettling thought, especially coming from Jim, who may be the most influential expert in network and applications management today.
Taking a brighter view, other experts and vendors referred to the network and its new role as the "application delivery network" and emphasized the need for IT professionals that understand all aspects of delivering applications from end to end. These new application delivery specialists are most likely to come from a networking background, they agreed, because they have the knowledge of the complex infrastructure already in place.
So is the glass half empty or half full? Or maybe we just need to build an ark to weather the perfect storm. As Burton Group analyst Eric Siegel quipped to me at the end of the Metzler session, "You know what my plan is? In five years, I'm just going to retire!" If only we could all do that…