News
Stay informed about the latest enterprise technology news and product updates.
Networking skills are in demand
If you're looking for a new job and you have networking skills, you are in luck. Even in this weak economy CIOs are looking for you.
Seventy percent of CIOs in a new survey listed network administration as a technical skill most in demand in their IT departments. This stat comes from IT staffing firm Robert Half Technology, which just published its quarterly survey of the hiring plans for 1,400 CIOs from companies with more than 100 employees. The firm asked CIOs to list the technical skills most in demand within their companies. They were allowed to give multiple responses. At 70% network administration was the top skill in demand, followed by Windows administration and desktop support (both at 69%). Wireless network management skills (47%) and telecommunications support (44%) are also in demand.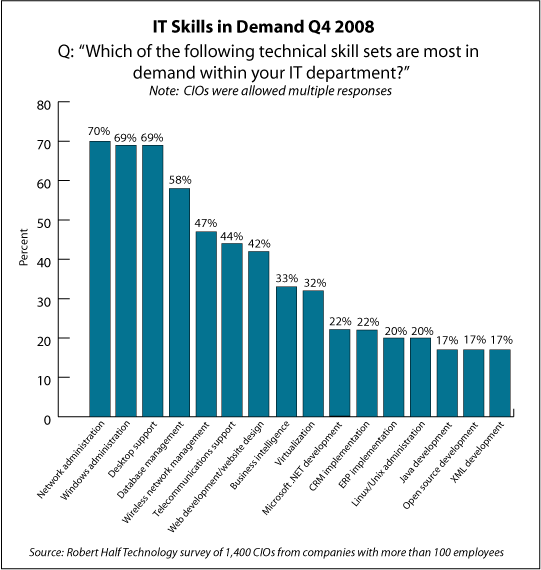 CIOs also identified which job areas areexperiencing the most growth in their IT departments. Networking placed second at 14%, behind help desk and end user support (18%). Robert Half said in its press release that networking had been the biggest growth area in IT departments for the past year, but had slipped to second this quarter. Still, second isn't so bad.
This should come as good news to networking pros since new IT jobs are scarce overall. The survey found that just 11% of CIOs are adding new staff this quarter, a two-year low, down from a high of 17% in the third quarter of last year. Three percent of CIOs plan to cut staff. So while server administrators and Web developers are scrounging for new jobs, networking pros shouldn't have too much trouble.