News
Stay informed about the latest enterprise technology news and product updates.
Networking jobs market is lukewarm while overall job market is lousy
Hey, do you notice a trend here?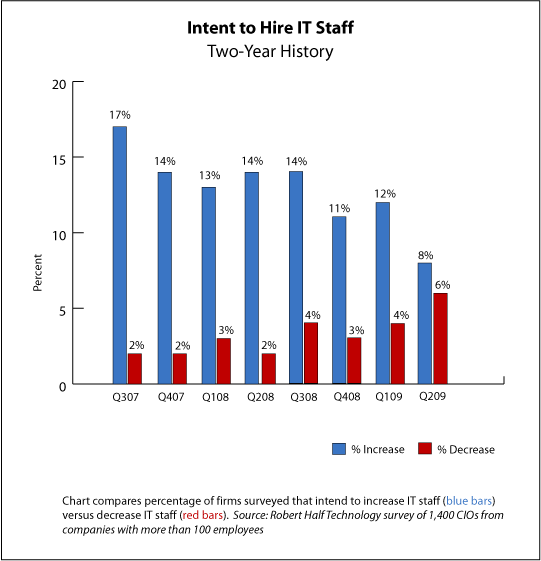 Every quarter staffing firm Robert Half Technology surveys 1,400 CIOs about their hiring plans. As you can see, the percentage of CIOs who are increasing staff has been relatively steady for nearly two years. In the third quarter of 2007, 17 % of CIOs said they were adding new staff. Then it held steady at between 13% and 14% for about a year. Then it started to dip a little in 2008 before plunging to 8% in the first quarter of 2009.
Meanwhile, the percentage of CIOs who are cutting jobs is creeping upward. For quite awhile just 2% of CIOs were cutting jobs. That's a remarkably low ratio, and given the way things are right now those days seem so far away. Now job-cutting CIOs are at 6% and no doubt still climbing.
The silver lining is that 83% of CIOs will maintain the status quo on IT jobs. Those with good jobs can take heart, but job seekers must be feeling pretty discouraged. (For some tips on how to prepare for a networking job interview, see Michael Morisy's story).
At least networking jobs remain relatively hot in these dismal days. When asked which kinds of jobs are experiencing the most growth in their IT organizations, 15% of CIOs identified networking jobs, tied with help desk/technical support as the biggest IT growth area.
Also, network-centric skills continue to be resume gold. When asked which skills were most in demand, 65% of CIOs identified network administration, 47% identified telecommunications support and 46% tagged wireless network management.