News
Stay informed about the latest enterprise technology news and product updates.
My inside look at the world of Star Wars
Last week I held the original blaster that Harrison Ford – as Han Solo – used to shoot Greedo in Star Wars (Episode IV).
That's what I consider the highlight to a vacation.
Thanks to some business contacts that a certain friend of mine has, I was fortunate enough to receive a tour of the center of George Lucas's entertainment business empire in San Francisco, including LucasFilm's headquarters at the Presidio in San Francisco and the fabled Skywalker Ranch north of the city. It is no easy feat to get a look inside the homes of LucasFilm and its various divisions, such as Skywalker Sound and Industrial Light & Magic. I once read that Ronald Reagen's request for a tour of Skywalker Ranch while he was president was denied.

Due to a nondisclosure agreement I signed before entering these hallowed halls, I'm not allowed to share much about what I experienced, but I can offer up a few photos along with my general impressions of what I saw.
First of all, LucasFilm's Presidio location, at the Letterman Digital Arts Center, is a beautiful facility built on the site of an old military hospital. LucasFilm does very little to advertise its presence on this site. But as you walk up to the visitor's lobby, you see a fountain that makes it fairly obvious who uses these offices.
This life-size statue of Yoda looks so peaceful standing atop this rather stark looking fountain. I understand that this fountain is a rather popular attraction for people, and since it's in public view I was allowed to take a photograph of it.
Once we stepped inside the lobby, whose entrance you can see behind Yoda, we walked halfway into another world. The LucasFilm lobby is a a cross between a contemporary corporate office lobby and a shrine to film-making and the Star Wars universe. Bookshelves line the back walls, with books on subjects ranging from civil engineering to San Francisco tourism.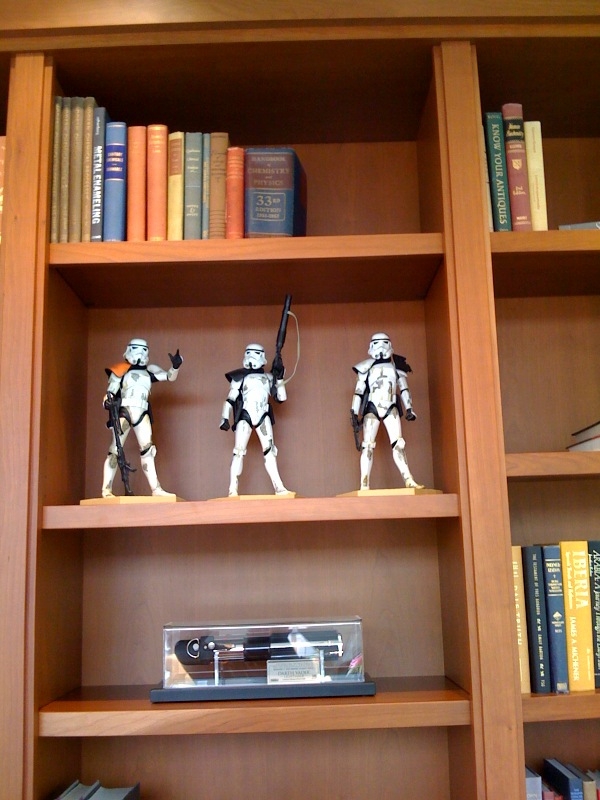 For instance, in this photo , you can see how a squad of three stormtroopers shares a bookcase with some old hardcover books. One imagines this is similar a private study that George Lucas has hidden away somewhere for his own personal use.
Notice the replica of Yoda's lightsaber sitting on the shelf below. The books include titles on chemistry and physics, metal enameling and antiquing.
Nearby, but not shown in this photo, was an encased replica of the thermal detonator that Princess Leia, disguised as a bounty hunter, used to intimidate Jabba the Hutt into agreeing to pay her a bounty on Chewbacca in Return of the Jedi. I just love this kind of stuff.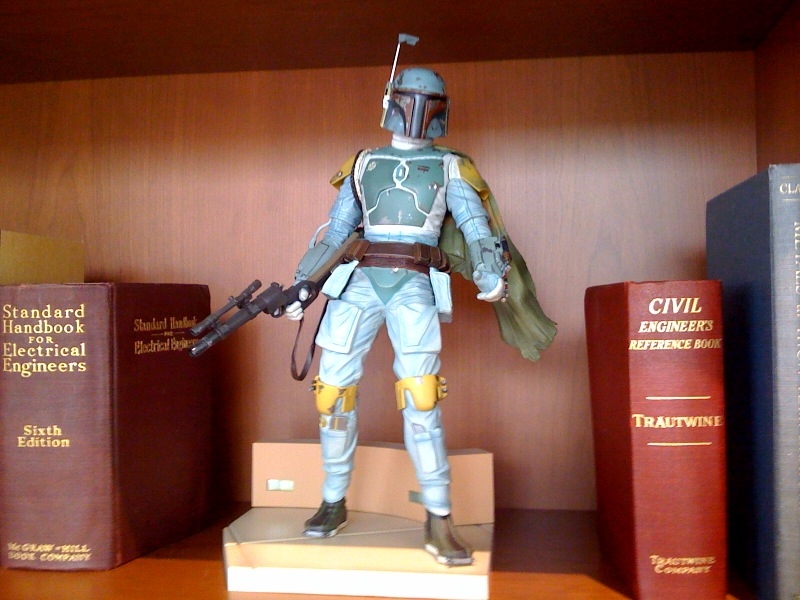 In this photo, you see a miniature model of Boba Fett, one of my favorite characters. Note that this bounty hunter, whose father was the progenitor of all the clones who would one day make up the Empire's army of Stormtroopers, stands between two old texts on electrical engineering and civil engineering. I really enjoy the juxtaposition between real science and science fiction that is found throughout this space.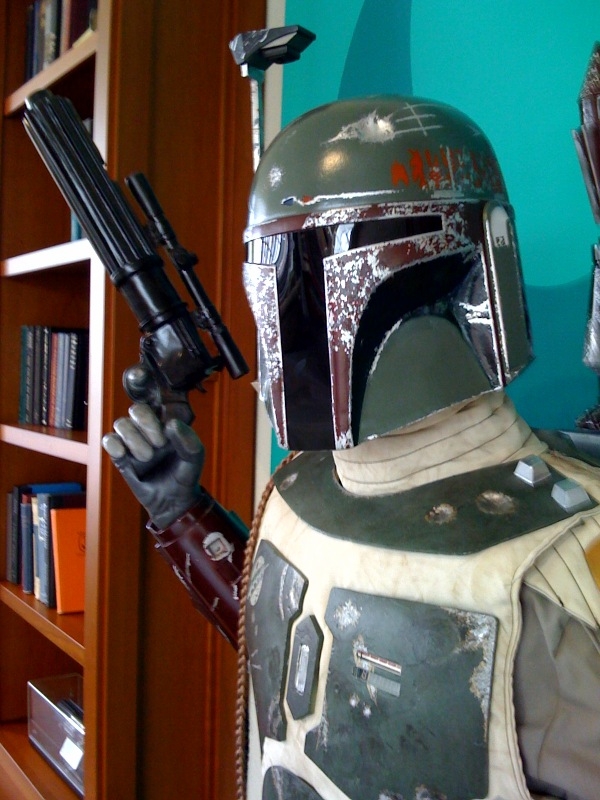 Speaking of Boba Fett, there is also a life-size replica of him in the lobby, as you can see here.
I love the details that went into this reproduction, right down to the dent on the crown of his helmet and the faux chipping and weathering of the enamel and/or paint coating of his armor.
Replicas like these are expensive collector's items, and it's impressive that LucasFilm was willing to place them in a lobby open to the public.
Then again, once you step through security and see what's hidden from public view, you gain a new perspective….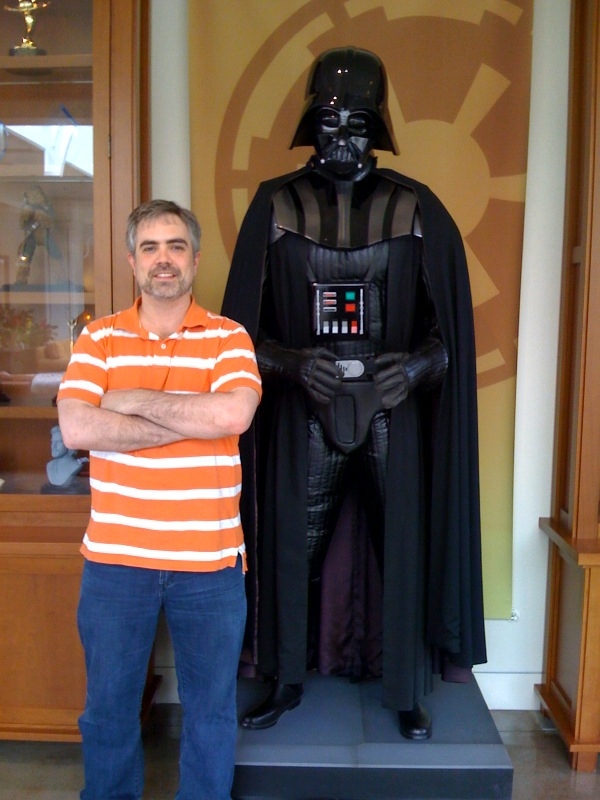 Boba Fett isn't the only life-size replica of a nefarious Star Wars character. Darth Vader is here as well. He's pretty intimidating for an inanimate object. Standing next to him took me right back to my childhood.
Once inside the lobby, we got our visitor's credentials from security and were shown inside the inner sanctum, where many of LucasFilm's divisions are located, such as Industrial Light & Magic and Lucas Licensing.
As I said earlier, I can't disclose much about what I saw inside, but you can guess for yourself what you might find, especially since Lucas's licensing division is in this office park. Toys, toys everywhere, from all over the world! If I were still a kid, I would have been hyperventilating the whole time I was there.
There were plenty of replicas and artifacts everywhere, tied to various movies that LucasFilm's divisions have worked on over the years, not just the Star Wars and Indiana Jones franchises.
Here is a video that someone shot of her tour inside the Letterman facility. It offers some details of what you can find inside, such as Javva the Hutt – a coffee shop for Lucas employees – and a full size movie theater where you can imagine employees get to see screenings of some kind. If I knew what they're able to see there, I wouldn't be allowed to tell you, but I will tell you that the quality of the sound and picture in that theater is probably the best I've ever experienced in my life.
A few days after our tour of the Letterman offices, we visited Skywalker Ranch, which is located about 45 minutes north of San Francisco. This used to be the headquarters for most of Lucas's businesses before the Letterman facility opened. It's also a working ranch, with crops and vineyards and livestock all over the place. It's really a beautiful place with excellent facilities for employees, such as a fitness center, a baseball park and hiking trails.
The highpoint of our visit to the ranch was our tour of the Archive. Oh how I wish I could share with you pictures of what I found in there. Alas, that's not going to happen. However, here is a rather dated YouTube video of the archive.
[kml_flashembed movie="https://www.youtube.com/v/Te2kMezjI00" width="425" height="350" wmode="transparent" /]
What we found inside was quite different than what's in this video. The facilities are a little more modern now. As you can clearly gather from watching that video, the archive is an amazing collection of models, props and costumes from the Star Wars films, as well as the Indiana Jones movies and lesser known movies such as Willow.
As I wrote above, I beheld the fabled blaster that belonged to Han Solo, and I saw some other pretty amazing things such as the Ark of the Covenant, the death star, and a rather famous metallic bikini. It was a great privilege and a pleasure to take such a trip back in time to my childhood. And I really enjoyed shopping at the company store after my tour, where I picked up a nifty Millennium Falcon t-shirt for my soon-to-be-born niece and a plush Boba Fett doll for myself.